SIG SP2022 Review and Price
This SIG SP2022 review and price is written to give the reader a brief idea of the product and any necessary information regarding its usage. The SIG SP2022 was designed for military, law enforcement, and civilian users. It is chambered in 9×19mm Parabellum. The weapon's design was based on the SIG Pro series pistol introduced in 1998 but includes changes such as a polymer grip and trigger assembly. It features an integrated rail system that allows for the mounting of accessories, such as a flashlight or laser sight. The SIG SP2022 also has an ambidextrous safety and slide stop.
The weapon points naturally, and the sights are very visible. It is a well-made and reliable weapon that will serve the user well in any situation. Here are some details.
Grip and Textures
The grip and textured surfaces on the SIG SP2022 make it easy to hold and control. This is important for a weapon used in difficult or dangerous situations. The grips on SIG SP2022 are excellent and allow the user to get a superb firing grip. It enhances the control of the weapon, even with gloves on. The grip textures also help keep the weapon from slipping in hand. Additionally, there are several different textures on different parts of the gun, which allows the user to maintain a good grip even in wet or icy conditions.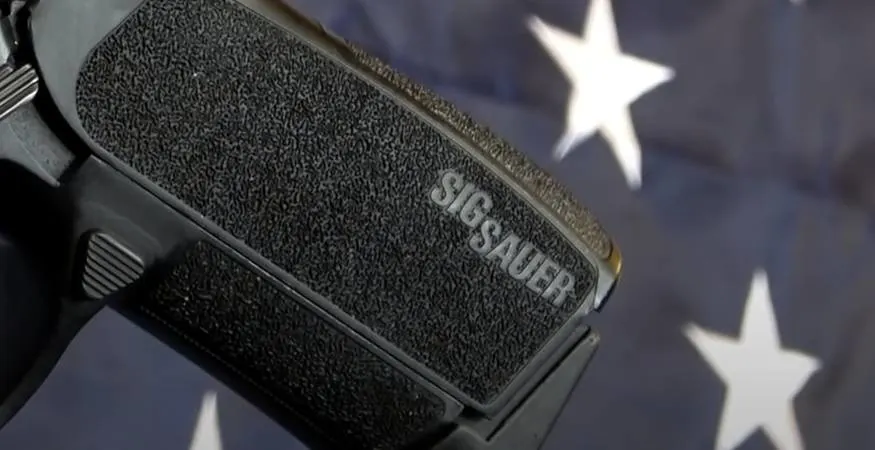 Trigger Mechanism
The SIG SP2022 has a very smooth and light trigger mechanism. This makes it easy to fire accurately and quickly. The trigger is also adjustable so that the user can customize it to their preferences. This makes the weapon safe and reliable. In addition, it has a short trigger pull, which helps with accuracy. The only downside to this feature is it may be hard for new shooters to get used to since most double-action pistols have a heavy long trigger pull. In general, however, shooters find that the SIG SP2022 is easy to use and controllable.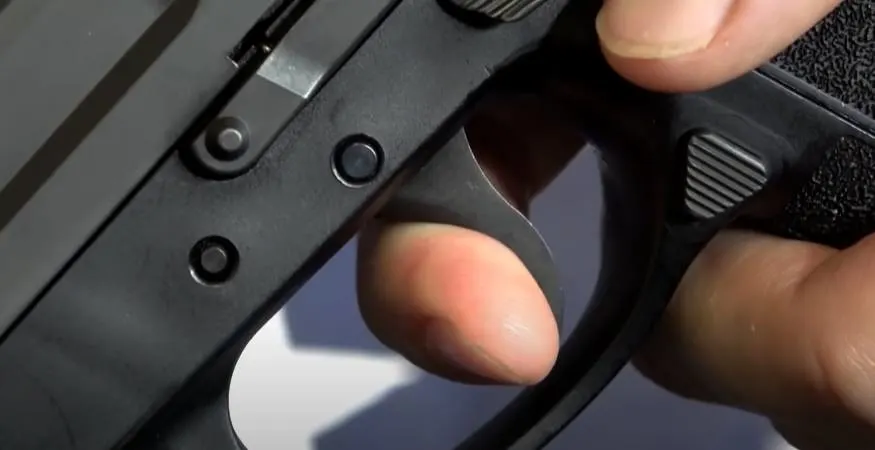 Slide Stop Mechanism
The SIG SP2022 has an excellent slide design, which contributes to the weapon's accuracy and quickness of operation. The front end of the slide is squared off, making it easier for the user to manipulate. It also makes it easier to take down and maintain. SIG SP2022 has a slide stop that is very easy to reach and use. It allows the shooter to make quick magazine changes, which may be necessary if there is trouble during a firefight. The controls on the SIG SP2022 are all located in similar places and can be easily reached from either side of the weapon by both right-handed and left-handed shooters. This includes the safety mechanism, slide stop, and magazine release. These features combine to make the SIG SP2022 a very user-friendly weapon.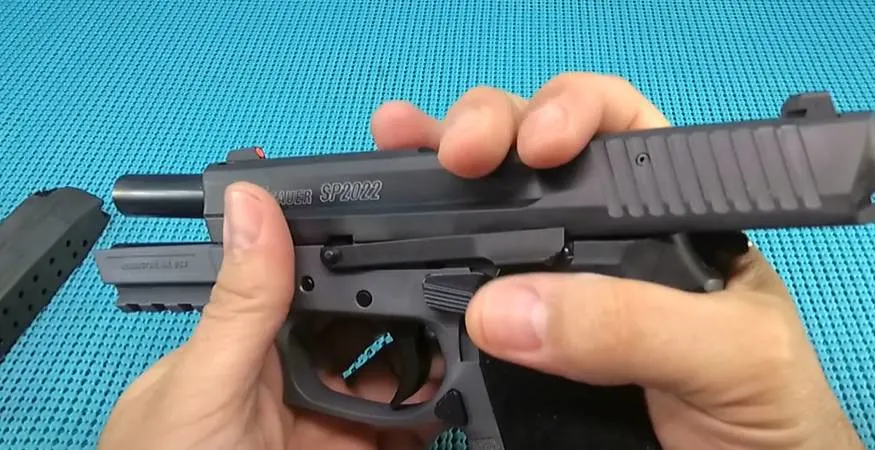 Sights and Sight Picture
The SIG SP2022 has excellent three-dot sights that are very visible. This makes it easier for the shooter to aim, especially in low-light conditions like hunting or at night. The front sight is large and easy to see, while the rear sight is slightly smaller. This makes it easy for shooters to acquire their target quickly and accurately. SIG SP2022's sights are exact out of the box. They are fixed, which means that they cannot be adjusted. However, they are well-made and provide a good sight picture. The sights are also dovetailed into the slide, making them stronger and less likely to break.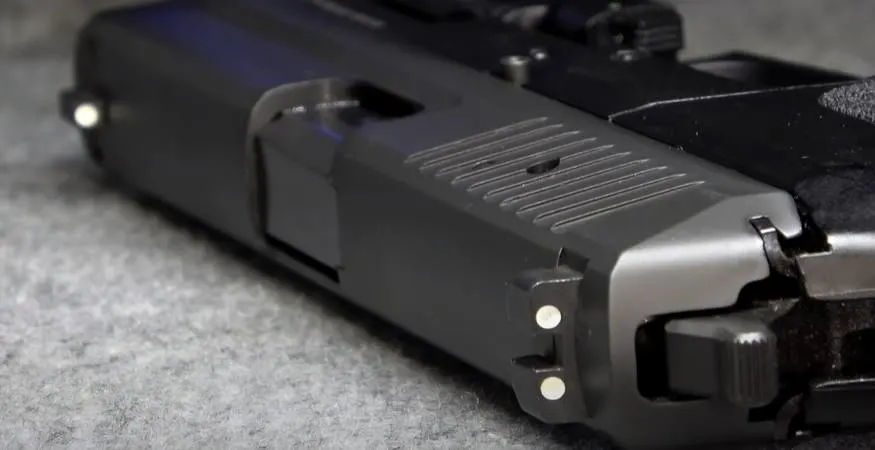 Aesthetics
The SIG SP2022 is a good-looking weapon. It has clean lines and an attractive design. This can be important for civilians who need to carry the gun concealed. The SIG SP2022 does not have some weapons' traditional "military" look. The grip is made of thick polymer and has a slim ergonomic design. This makes it very comfortable to hold and easy to control, even for shooters with smaller hands. The slide is made of stainless steel, durable, while the barrel is carbon steel. This gives the weapon a good balance and makes it easy to handle.
The frame of the SIG SP2022 is made of polymer, which is very strong and durable. This makes the weapon lightweight and easy to handle. The frame is also treated with a hard coat anodizing that helps to protect it from wear and tear. The finish makes the SIG SP2022 less reflective and easier to maintain. In addition, most shooters find that the SIG SP2022 is easy to clean and maintain, which is especially important for a weapon that may be used in complex or dirty environments.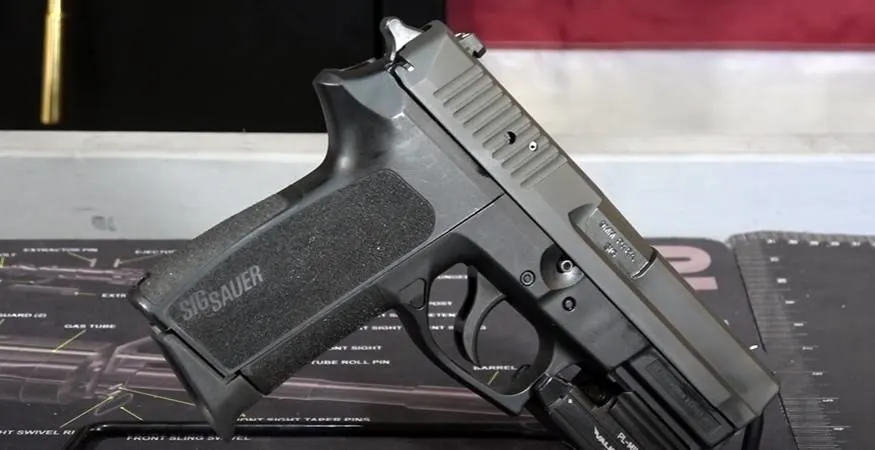 Ammunition Capacity and Magazines
The SIG SP2022 can hold up to 15 rounds of 9mm ammunition in its magazines. This is a good capacity, especially compared to some other weapons on the market. The magazines are also made of polymer and are very strong. They are easy to reload and do not need to be oiled. The SIG SP2022's standard magazine has a 10-round capacity, but some versions can hold 15 rounds. The magazines are similar in design and interchangeable among different SIG SP2022. The magazine release is located behind the trigger guard, and it is easy for shooters to reach. It allows shooters to quickly reload the magazine without changing their grip on the weapon.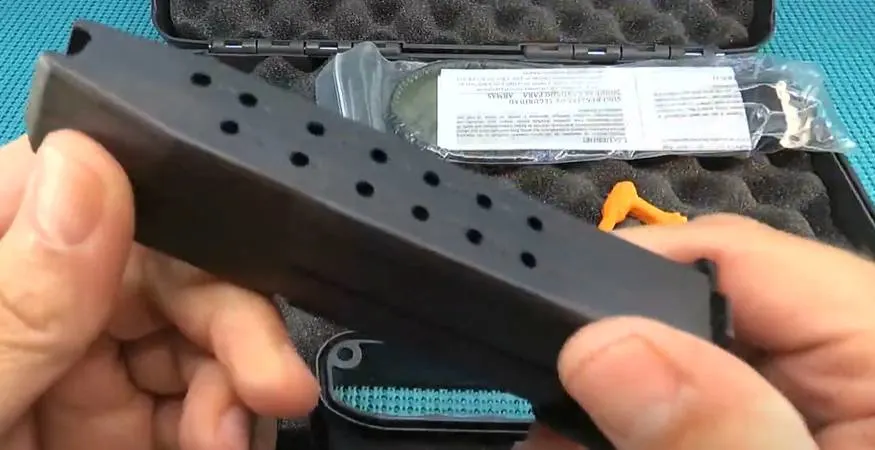 Size and Dimensions
The SIG SP2022 is a small weapon. It has an overall length of 7.4 inches and a barrel length of 3.9 inches. This makes it very compact and easy to control and use, even in close quarters or for shooters who have smaller hands. Overall, the SIG SP2022 feels good in the hand and can be easily concealed. It is also very lightweight, weighing in at only 29 ounces.
Trigger Distance and Safety
The trigger on the SIG SP2022 is approximately 6.5 inches from the back of the grip. This is a reasonable distance for most shooters and allows them to easily pull the trigger without changing their grip on the weapon. The SIG SP2022 has a manual safety that both right-handed and left-handed shooters can easily reach. The safety is also ambidextrous and can be used with either hand. This makes it easier for shooters to do quick tactical reloads.
Size and Portability Compared to Other Guns
The SIG SP2022 is a full-sized gun. This means it is about the same size as many other popular handguns, including service pistols such as those carried by law enforcement officers. Some shooters have commented that the SIG SP2022 looks almost precisely like a Sig Sauer service pistol, slightly smaller.
Slide serrations
The slide serrations on the SIG SP2022 are well-designed. They allow the user to quickly and safely manipulate the slide to chamber or eject around. This can be important in combat situations where time is critical and smooth; quick operation might be necessary. The slide part interacting with the rear sight is also heavily textured for easy extraction.
Reliability
The SIG SP2022 is designed to be very reliable. It operates using the Sig Sauer short-recoil tilting barrel system, reducing the time required for field stripping and cleaning the weapon. In addition, it has a low-profile hammer that reduces snagging while being carried or while operating in enemy territory. The SIG SP2022 operates using the standard double/single action firing system. This means that it can be carried in single-action mode with a round in the chamber and ready to fire, but can also be fired by manually pulling back the hammer before each shot.
Disadvantages of SIG SP2022
Price
One disadvantage of the SIG SP2022 is its price. It is more expensive than many other handguns on the market. However, shooters, who have shot it says that it is worth the price because of its high quality and accuracy.
Heavy Trigger
Most shooters report that the trigger pull on the SIG SP2022 is heavy, which means that it requires more strength and energy to shoot. This is not a good feature for novice shooters, but it makes the weapon more accurate. This means that it might take longer to train novice shooters with the SIG SP2022 than with other handguns, but once they are trained, they will have an advantage over shooters using a weapon with a light trigger pull.
Aftermarket Accessories - SIG SP2022 Review and Price
The SIG SP2022 has many aftermarket accessories and options available, including:
Scopes and Sights
Scopes and sights can be added to the SIG SP2022 using a Picatinny rail. However, this option will increase its weight and make it less concealable.
Additional Magazines
Like most handguns, shooters can purchase additional magazines to have a larger supply of ammunition readily available.
Laser Sights and Lights
Shooters who want to use their SIG SP2022 for tactical purposes can add laser sights and lights. These accessories might be helpful in some environments, but they will also add weight and bulk to the weapon.
Suppressor Attachments
The suppressor attachments can be added to the SIG SP2022 to reduce noise levels and make it more difficult for enemies to identify the shooter. However, this option will add weight and bulk to the weapon.
Holsters
Many different holsters are available for the SIG SP2022, including belt holsters, shoulder holsters, and drop-leg holsters. This allows shooters to carry the weapon in various ways that best suit their needs.
Sig SP2022 (Square Trigger Guard) Supertuck Holster
The SIG SP2022 (Square Trigger Guard) Supertuck Holster is an example of a holster specifically designed for the SIG SP2022. It is made of Kydex and comes with a belt clip. It fits the SIG SP2022 like a glove. The SuperTuck is designed to be carried towards the rear of your draw side for quick and easy access, making it perfect for self-defense. If you're right-handed, it's best to carry the holster at 3:30 to 5 o'clock, and if you're left-handed, 7 to 8:30.
Why would someone want to add a suppressor attachment to the SIG SP2022?
Adding a suppressor to the SIG SP2022 will reduce noise levels and help disguise the shooter's location. A suppressor can also reduce recoil.
Why do many shooters like the SIG SP2022's trigger pull?
Many shooters find that the SIG SP2022 has a heavy but predictable trigger pull. This makes it easier to shoot accurately.
What is one advantage of using the double and single-action firing system on the SIG SP2022?
The double and single-action system increases the SIG SP2022's safety levels by ensuring that it can only be fired when a round is already chambered.
Are there any magazine pouch options available for the SIG SP2022?
Yes, various magazine pouch options are available for the SIG SP2022. This allows shooters to easily carry extra magazines without adding weight or bulk to the weapon.
What are some excellent laser sights for the SIG SP2022?
The Crimson Trace Rail Master Universal Laser Sight is a good option for the SIG SP2022. It is compact, easy to use, and very accurate.  It fits most pistols and rifles with a Picatinny or Weaver-style rail.
We will help you to find the right Sig Sauer weapon for your needs by giving you all of the information that you need in one place: Sig P226, Sig Sauer M18 and Sig Sauer M17.
In summary, the SIG SP2022 is a solid handgun with many features that shooters might find helpful. Gun enthusiasts who want a reliable and accurate gun should consider buying it. It also has many different aftermarket parts that allow shooters to customize it to suit their needs. Hopefully, this SIG SP2022 price and review has helped you understand its merits and how it might benefit you. If you are interested in picking up one of these great firearms, you can find them online via the links given at the top of this article. You can also go to a local gun store to find one. Either way, the SIG SP2022 is well worth your time if you consider it.
Author Profile
Gabriel Tackett is an experienced shooter and hunter for over 15 years with a degree in Engineering from the University of Minnesota. He is also a certified National Rifle Association (NRA) officer for 10 years And his passion lies in teaching others how to safely enjoy the hobby by recommending the best practices & products in the gun industry.