The HK P30 is a high-quality 9mm handgun that has been around since 2006. The P30 is a modern police and security pistol designed to meet demands for accurate, reliable handguns requiring less maintenance than older designs. Check out this HK P30 Review for more information.
The HK P30 is a very sleek-looking gun with several amazing features that will have you wanting to try this weapon out for yourself. It has an ergonomic grip, ambidextrous controls, and a modular design that lets it be tailored to your needs. And with its superior quality construction, this gun will last for years of use without fail. Let's dig into the details.
The HK P30 is a high-quality 9mm handgun that has been around since 2006. It's made in Germany and has been heralded for its superiority over previous HK models such as the HK P2000 and HK Mark 23. The biggest difference with the P30 is that it's lighter weight than previous models, making it easier to carry around if you're a security operative or officer.
Everything About HK P30
The HK P30 is truly one of the most versatile handguns on the market currently. Not only can it fit different hands, but there are also three different trigger styles to choose from (selective double action, selective double action with positional trigger, or a traditional double-action).  For safety features, this handgun has a decocking lever for convenience while carrying it around in your holster, and its ambidextrous magazine release helps keep things balanced on both sides of the weapon. This handgun has very low recoil, making it easy to get back on target quickly if you do happen to miss your shot. The grip is also angled to reduce muzzle flip when you pull the trigger, which makes target acquisition much easier.
Grip and Textures
The grip of the HK P30 also has a few different textures to make sure there's no way you can drop it when you're in a pinch. There are waffled side panels and a pebbled front strap that both create friction preventing your hand from slipping around on the gun when your palms are sweaty. The textured polymer frame of the weapon is corrosion-proof, which means you won't have to worry about rust forming on it if you get caught in the rain. The texturing also aids in gripping the gun when it's covered in mud or blood (if you're in a survival situation) so you won't lose it.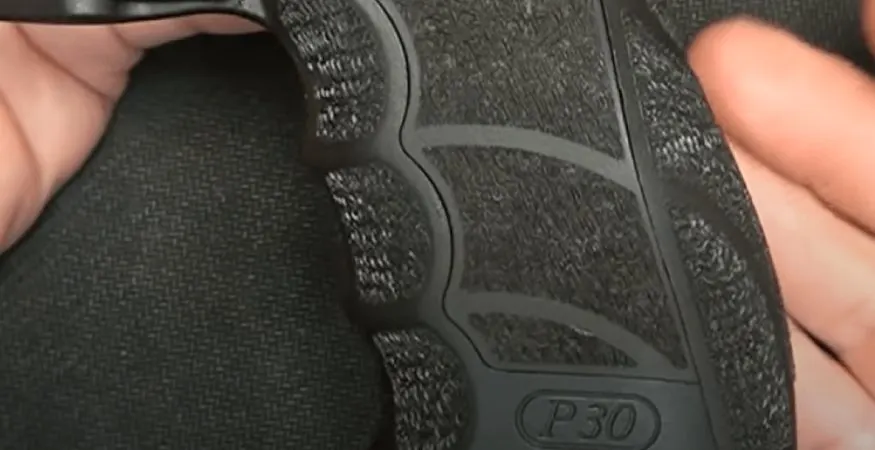 Magazine Capacity and Bullets
The HK P30 has a standard 15-round magazine and it will accept the 17-round magazine as well. The HK P30's magazine is coated with a low-friction material that makes it easier to load into the weapon without excessive force. This makes reloading much more convenient than with other handguns on the market. The magwell on the HK P30 is designed for ambidextrous mag release, and it can be fitted with a flat or arched floor plate to accommodate your preference. The bullets for the HK P30 are 9mm Luger, which is one of the most popular bullets used in handguns today.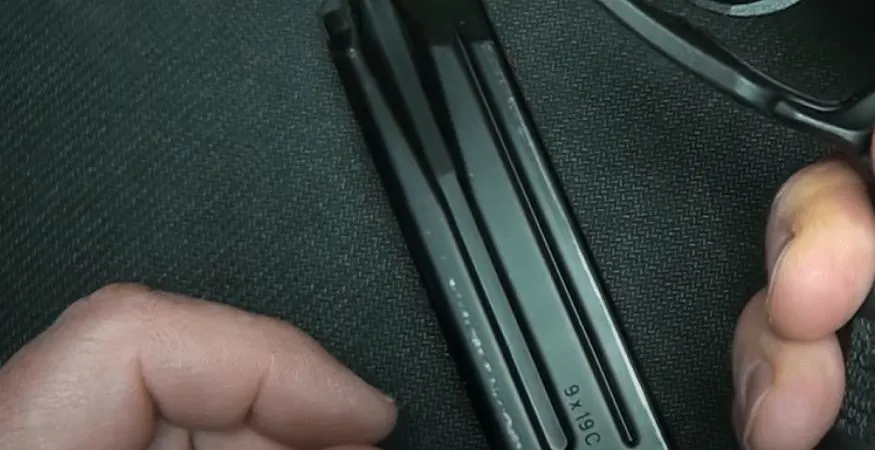 Trigger Mechanism
The HK P30 has three different types of trigger mechanisms, each of which gives you a different feel when pulling the trigger. Traditional double action is where the first pull on the trigger is long and then every consecutive shot after that has an extremely short pull. This type of mechanism gives your multiple chances to fire if you miss your target initially. Selective double action is when you can cock the hammer for an extremely light trigger pull before firing your first shot, which makes target acquisition and follow-up shots easier.
After you fire that first shot, the heavy pull on the trigger returns for every consecutive shot. Positional double action is when you can cock the hammer and use a short and light trigger pull like in selective double-action mode. This is great if you're firing from awkward positions where you can't easily get your fingers around the grip of your gun or press them against the trigger.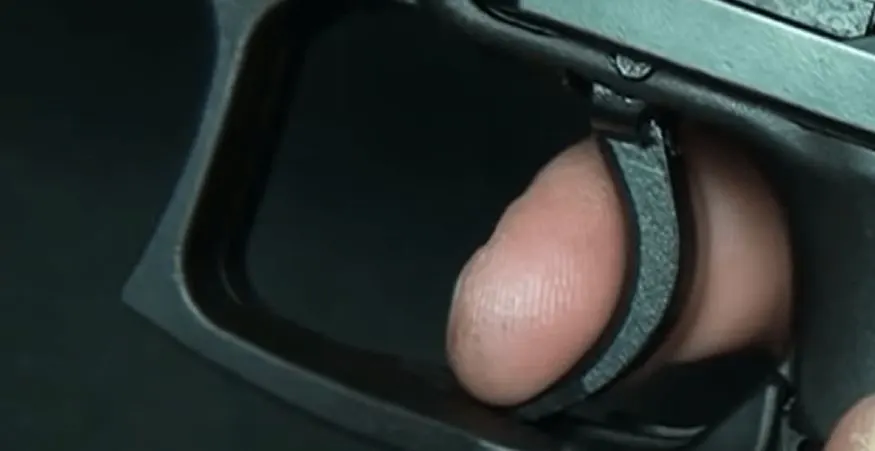 Slide Stop Mechanism
This handgun has a slide stop mechanism that allows you to lock the slide back when you need to take your weapon out of action for any reason. To activate the slide stop on this gun, press upward on it while pulling back on the slide until you feel it lock into place. When you're finished with your task, press downward on the slide stop and then release the slide to put everything back into action.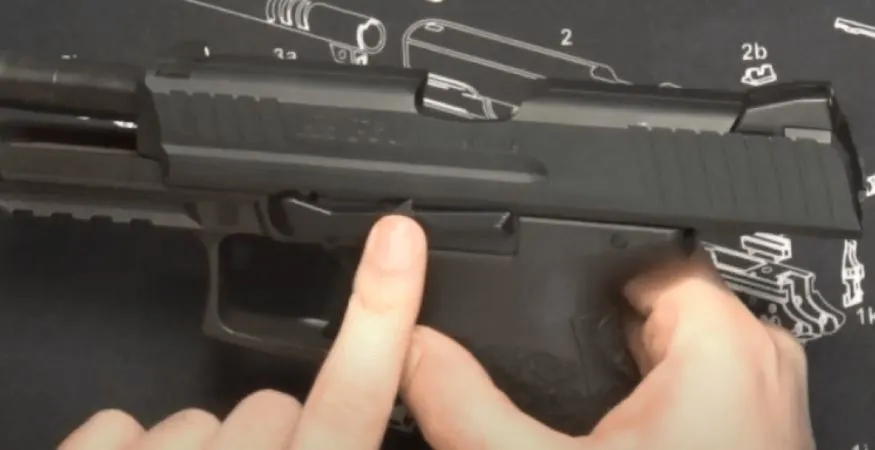 Aesthetics
The frame of this handgun is made from a corrosion-resistant polymer which ensures you can use your handgun even in rainy conditions without worrying about rust. The frame doesn't have a Picatinny rail built into it, but the factory equipment includes a Picatinny adapter that allows you to attach your accessories. The magazine well is also notched so you can easily see if the magazine is loaded or not. This makes it easy to manage your ammo levels and improve safety when using the weapon in a high-stress situation.
Size and Dimensions
This gun is a double-action 9mm with a barrel length of approx. 98 mm. The HK P30's overall length is approx. 181 mm, and it has a width of approx. 34.8 mm. The gun weighs 740 g without the magazine and 880 g with the standard 15-round mag in place. This handgun has an empty mag weight of 93 g and a full mag weight of 135 g.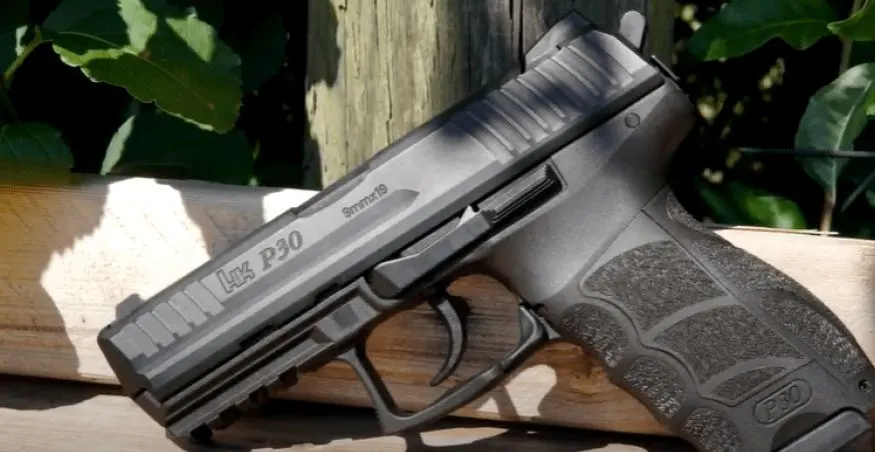 Line of Sight
The sights come standard with three-dot luminescent sights that are easy to see even if your surroundings are very dark. The front sight is steel and has a square notch that matches up with the square rear sight post for today's modern combat conditions. The HK P30 also has a drift-adjustable, rectangular rear sight. The rear sight is adjustable for windage and elevation, so you can get your gun dialed in if you're using it in demanding weather conditions or at long distances.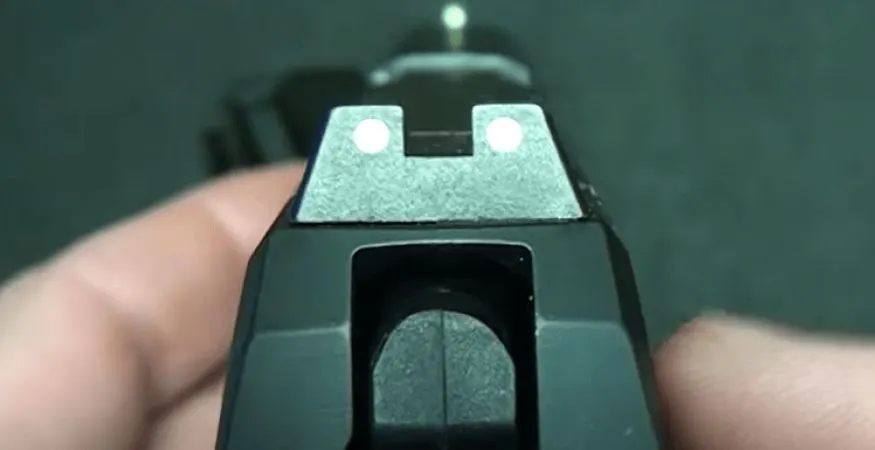 Safety
This handgun has a safety device built into the decocking lever located on the left-hand side of the slide. To engage your safety, you simply need to push your thumb downward. When finished with your tactical operation, remove your thumb and then use your index finger to return the decocking lever to its original position.
Ammunition
This pistol is best used with 9×19 mm ammunition, but it can also fire standard .40S&W bullet cartridges. This gun is compatible with the most popular 9mm Luger ammunition. The steel-cased ammunition that some soldiers use in combat isn't safe for this handgun because it can cause issues with the firing mechanism. With that being said, the gun only works reliably with brass-cased cartridges.
Reliability and Durability
HK constructed this gun with a cold hammer-forged barrel that ensures maximum service life. The hard coating on the barrel reduces wear and tear, which means you don't have to worry about your weapon's performance degrading after extended periods of use. The polymer material used for the frame is corrosion resistant and also ensures durability. The slide is made from a stainless steel alloy that ensures long-term service life.
Simplicity and Safety
The overall design of this handgun is simple enough for any soldier to use, even those people who don't have a lot of experience with tactical or combat weapons. The gun does not have a manual safety switch that you need to engage each time you pick up your weapon. Instead, it has an automatic firing pin safety and automatic decocking safety.
Right-Handed Use
This gun is meant for right-handed people, but it is available to left-handed shooters as well. If you're looking for a tactical firearm that can be used comfortably by both hands, then this HK P30 is the handgun that will meet your requirements.
Low Maintenance
This handgun is very simple to clean and maintain. Just brush down the bore and remove any dirt or grime from your handgun's exterior. Although you don't have to clean this gun as frequently as some other handguns on the market, it is still important to do so with regularity.
Combat Accuracy
HK developed this handgun with excellent combat accuracy in mind. The sights are ideal for fast targeting and quick engagements.
Use by Law Enforcement
The HK P30 is used by many law enforcement organizations around the world. Some notable examples include the Royal Canadian Mounted Police, the New York Police Department, the Bavarian State Police in Germany.
Low Parts Count
This gun is designed with simplicity in mind, so the number of parts inside your firearm is relatively low. This not only ensures that you'll experience fewer malfunctions; it also means there's less to clean and maintain.
Finishing
HK coated the P30 with a corrosion-resistant polymer finish that adds durability. This finish also helps prevent rust and other issues, which means you won't have to worry about your gun's performance degrading over time.
Sights
This gun comes with adjustable sights. The front sight is independent of the rear sight, which makes for easy black-and-white target acquisition.
This HK P30 handgun does have some drawbacks. It's important that you understand these disadvantages before purchasing this firearm.
Weight
Some users complain about the weight of this gun. It weighs more than similar handguns on the market, especially when you add components such as magazines or tactical lights to the handgun. Some shooters even complain about the weight of the unloaded gun.
Rounds Per Magazine
Some people don't like that this handgun only comes with two magazines. The mags are also quite expensive compared to other pistol mags on the market today, which is another reason why some shooters aren't crazy about this HK P30 handgun.
Price
This handgun is one of the most expensive pistols on the market today. You can usually find similar handguns for a lower price point, but the price may be worth it for some people who prefer this P30 handgun.
Aftermarket Accessories of HK P30
This gun has a very limited amount of aftermarket accessories. The HK P30 is pretty much compatible with only a small number of available accessories, such as grips and holsters. Shooters can purchase a few other accessories, including tactical lights, magazines, and sight systems. However, there aren't as many resources for purchasing HK P30 accessories as there are for some other handguns on the market today.
Tactical Lights
The HK P30 is compatible with a few different tactical lights. If you want to attach an aftermarket flashlight system to your handgun, then this gun might be the best option because it can accommodate certain models of lights. Keep in mind that not all aftermarket tactical flashlights are compatible with this gun model.
Grips
This gun is compatible with only a few grip styles. You can get rubberized grips or Hogue-style wood grips, but aftermarket accessories such as custom laser engravings are completely off the table.
Other accessories
Aside from lights and grips, you can buy a few other aftermarket accessories for the HK P30. Some examples include laser sights, magazines, optic mounts, and others. However, this is one of the most expensive handguns on the market today, and some of the above accessories maybe even more expensive.
Holsters
The HK P30 isn't compatible with many different holster models on the market today. Your choices are somewhat limited. Keep in mind that most holster models won't accommodate tactical flashlights, either.
$

50.99

$0
0 new from 50.99
in stock

$

56.99

$0
0 new from
in stock
Is heckler & kochP30 worth it?
The features and functions of the pistol speak for themselves. The most unique feature of this firearm by HK is the fire control unit that allows the gun to maintain its high level of accuracy and performance during use.
The accuracy of the gun is one of its most notable features apart from being reliable in any environment.
Is HK P30 comfortable to carry?
Yes. It is made of ergonomic features and has an intuitive design. With these qualities in mind, safety is easy to handle and use when necessary. The safety features can be both manually and electronically activated with a single hand.
What are the advantages to using HK P30 over other pistols? Why should I buy this gun?
The trigger system is the main reason why this gun is worth buying. The design provides a unique experience for the shooter and ensures that every shot hits its target. It's safe, intuitive, and can accommodate left-handed users as well.
In conclusion, this handgun is worth buying because of its unique features and functions. In addition, it's comfortable to carry in a holster and on the body due to its ergonomic design. Overall, HK P30 gives the best performance you can expect from a handgun and therefore, can be trusted in any environment. Ensure that you carefully review the features and functionality of the handgun before buying it. Thank you for reading this HK P30 review.
Author Profile
Gabriel Tackett is an experienced shooter and hunter for over 15 years with a degree in Engineering from the University of Minnesota. He is also a certified National Rifle Association (NRA) officer for 10 years And his passion lies in teaching others how to safely enjoy the hobby by recommending the best practices & products in the gun industry.