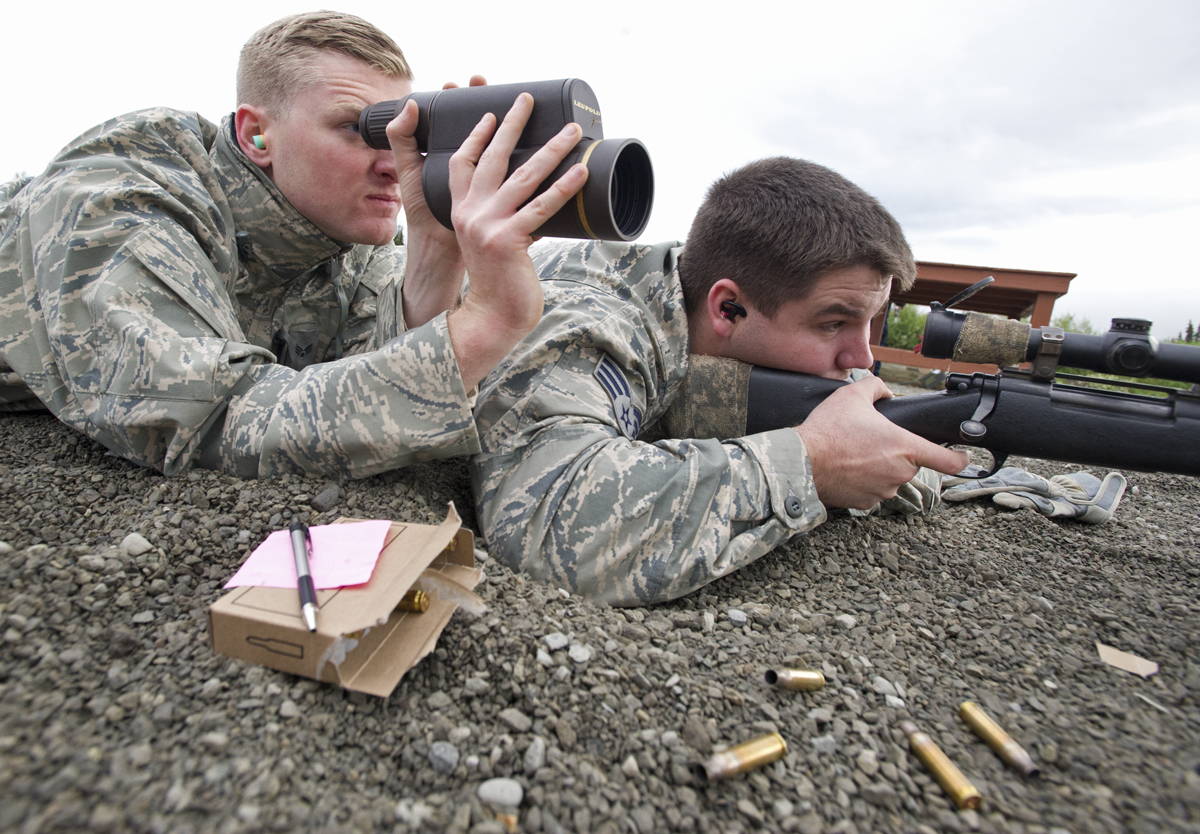 When it comes to target shooting, the spotting scope you choose may give you an awe-inspiring task or leave you frustrated depending on the quality of the scope you choose. You may end up going to shoot with a good scope but suited for other purposes such as hunting. You may as well go with a scope that cannot shoot long distances. All these mistakes are possible if you are not conversant with target shooting scopes.
Buying a spotting scope for target shooting can confuse you if you do not well know what you need and require. When it comes to target shooting scopes, what matters is what you require and not what you prefer. To be a successful target shooter, you need to choose a perfect scope for target shooting. The following are some of the best target shooting scopes that you may consider.
Bushnell Legend Ultra HD 20-60 x 80 Spotting Scope
Specifications
Magnification Range: 20-60x
Objective Lens Diameter: 80mm
Weight: 7.11 lb/ 3.23 kg
Dimensions: 16.5 in/ 42 cm
Our Rating: 4.9/5
The Bushnell Legend Ultra features fully-coated optics and provides incredible clarity during wet weather!
The Bushnell Legend Ultra HD Spotting Scope is an excellent angled spotting scope! This is one of the perfect target shooting scope with a magnification of 20-60x and an 80mm objective lens. The scope has high optical quality with excellent clarity and accurate color fidelity.  
Unique features
Made of 100% quality materials which have been extensively tested and used

It has a beautiful design built to last for a long time

It has high-quality optics providing you with brilliant HD clarity
Pros
The scope has a waterproof and fog proof design

Fully waterproof

Digiscope adaptable

The lens is protected with a water repellent water guard

It has an ED prime fluoride glass that provides sharp resolution as well as clarity for color
Cons
It is relatively more expensive
Target audience
This is an ideal choice for long-range hunters and shooters who are seeking to get straight through view in their spotting experience. It is also a perfect idea for target shooters who are looking to improve their experience by getting high contrast and bright images.
Check out this video for a further detailed review of the Bushnell Legend Ultra HD Spotting Scope!
Vortex Optics Viper HD Spotting Scope
Specifications
Magnification Range: 20-60x
Objective Lens Diameter: 85mm
Weight: 4 lb/ 1.81 kg
Dimensions: 14.6 in/ 37.1 cm
Our Rating: 4.9/5
The Vortex Optics Viper HD Spotting Scope provides incredible glassing features and wonderful optics!
The Vortex Optics Viper HD Spotting Scope is a brand new straight scope that provides one of the best long-range spotting scopes. This scope produces bright and sharp and high-contrast mages with clear color as well as image clarity at various magnifications. It is also able to deliver quality photos, even when the lighting conditions are very challenging.  
Unique features
It enhances image quality through anti-reflection and multi-coated HD glass elements.

It has an 85mm objective lens which boosts the light transmission of the spotting, increasing image contrast, and quality.

It can be used without eyewear since it has rubber eyecup for eye comfort during usage.
Pros
This scope has a high zooming power for extended range use and extreme hunting.

Produces bright and clear views without interfering with the internal lighting.

It has a dielectric prism that helps in boosting surface reflectivity to over 90% for excellent transmission of light.

Has a high field of view of 101-50' at 1000 yards making it easy to view objects from long distances
Cons
Constant falling of eyepiece, which may be a nuisance.
Target audience
This scope creates a very ideal alternative for long-range viewers and hunters who want to work at a tight budget.
If you want to see the spotting scope in action, check out the video below!
So, there you have it, our top recommendations for the best spotting scopes for target shooting! If you're interested in learning about other spotting scopes that we recommend, check out our related article on the top 10 best spotting scopes! You'll also need a good spotting scope tripod to stabilize your scope and keep it steady. So, don't forget to check out the top 10 best spotting scope tripods to pair with your spotting scope!
Author Profile
Double major in Engineering and Geology at the University of Minnesota. Experienced shooter & hunter for over 15 years. Certified NRA officer for over 10 years working as a writer at Ballachy.com.
Was This Post Helpful?
Let us know if you liked the post. That is the only way we can improve.