Zeiss Conquest Gavia 85 Review
If you're an avid birder, you shouldn't miss this Zeiss Conquest Gavia 85 review. As one of the newest scopes in the market, the Zeiss 85 offers a ton of possibilities for your outdoor activities. It's easy to maintain and a total workhorse in the zoom department. While it's by no means perfect, this spotting scope is definitely one for the money.
The Zeiss Conquest Gavia 85
For those who have the extra budget, Zeiss spotting scopes will not disappoint. Although Gavia 85 is the first model on its line, we're excited about what else this brand has to offer. The Zeiss Conquest Gavia 85 is a compact piece that's not short of great features. It's a black piece with a nice feel and compatibility with most tripods. For its size and weight, a Manfrotto tripod will suit this well. This scope banks on its bright and crisp images, even at the higher zoom settings. As a unit set to give Vanguard and Vortex a run for its money, Zeiss is definitely one of the best options for birders and even hunters.
Features of Zeiss Conquest Gavia 85
Resolution and Magnification
For the Zeiss Conquest Gavia 85, you'll get a zoom power of up to 60x. Unlike other scopes, the minimum zoom for this model is 30x. It's made to go the distance, even on low-light conditions. Unlike other scopes that go fuzzy at 60x, Gavia 85 remains clear as you crank up the zoom wheel. This is a total beast if you're looking for clarity. Thanks to its detachable eyepiece, you can try various options. However, you must know that there's only one eyepiece sold under the Gavia brand at this point. It's a great gear for those who want to see extended yardage or are avid nature observers. It works for hunters too, but the minimum magnification makes it less efficient in glassing.
With the brightness and clarity of this scope, we just wish that it can go beyond its maximum 60x zoom. Overall, its 85 mm objective lens gives us the best images, even during poor outdoor conditions. For added clarity, the lens of this scope has a LotuTec HD coating. This keeps the lens fog-proof. Overall, this is a champ for those who want to observe great distances without losing clarity and control over the scope. However, as you increase the zoom beyond 40x, you'll notice a slight 'milkiness' on the edges. Nevertheless, it's not too distracting, and you can keep using the scope without disturbance.
Field of View
With a focal length of 494 mm and a field of view of 69 feet per 1,000 yards, there's nothing else you can wish from Zeiss. The Gavia 85 offers an unblocked view with minimal to no tunnel effect. You'll get to enjoy maximum view regardless of the magnification you're using. Focusing on this scope is very precise. It comes with a helical focus that you can move quickly. The resistance of the wheel is just right to keep the settings in place without being too draggy. If you want to set the focus from close to infinity, you only need to make a counter-clockwise turn. The eyepiece also locks in place. It comes with a rubber eyecup that you can twist up and down. Moreover, the eyepiece can be set in three different positions. Whatever your eyepiece setting is, the scope remains comfortable to use even during an extended period. As for color-fringing, we didn't notice much, except if you're following a moving object against a bright source of light.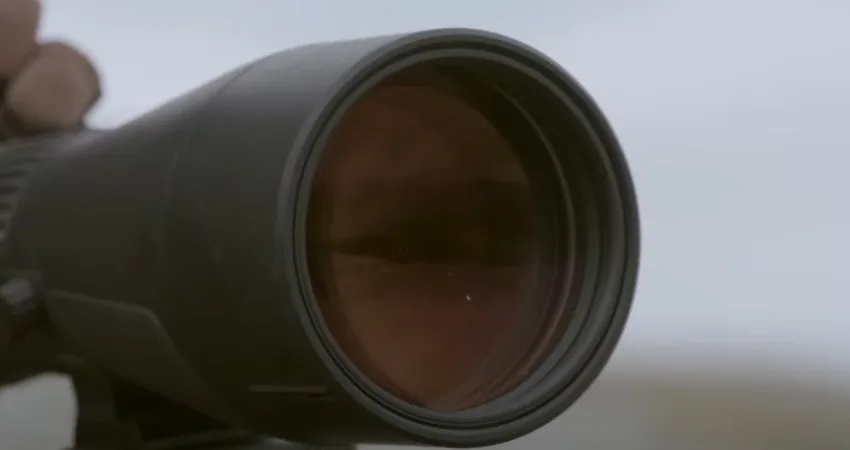 Weight and Size             
Take note that the Gavia 85 is on the heavier side. At 1.7 kilograms, it's a little cumbersome if you don't use a tripod or car mount to hold it. It's also quite long, so it's not advisable to go out with it without purchasing a trusty tripod first. Since you'd have to bring a tripod and deal with this heavy gear, the Zeiss Gavia 85 isn't the best choice for a hunter on the move. This makes the Gavia 85 a better choice for watchers, but not shooters.
Overall Performance
If we are to factor in its optical value, the Zeiss Conquest Gavia 85 is an unbeatable choice. It offers clarity even as you push its magnification limits. Still, we want to highlight that this scope is ideal for a specific type of outdoorsmen. Birders and nature watchers would surely have a great time using this solid model.
Build and Construction
There's a lot of rubber armoring in this scope to ensure that it will last long. It has a rotating collar that you can set in eight different positions. Also, it comes with a lens hood that works smoothly. Every part of this scope is fine-tuned and made to fit perfectly. It also comes with a lens cover that clicks in place as well as a tethered eyepiece cover. To keep the scope handy at all times, the package comes with a sling. Overall, this scope is sleek and neat for every outdoorsman out there.
The focusing ring of this scope has a ribbed wheel, which makes it very ergonomic. It's a rugged piece that gives the best bang for the buck. Moreover, this scope is built with extensive digiscoping accessories so you can do more with just one gear. Paired with a quick-change system, you can keep a hawk-eye without the disruption. Also, we like that this scope requires very minimal maintenance. Take note that you're not supposed to wipe the lens. Just blow the dust away, and you're good to go.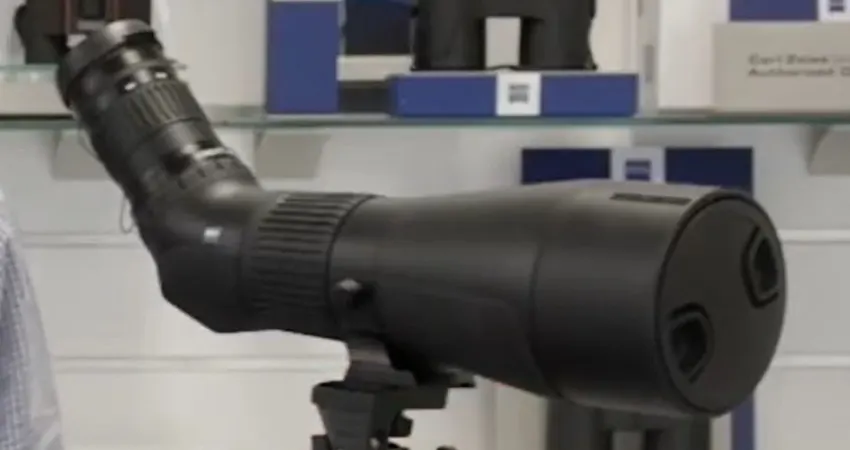 Zeiss Conquest Gavia 85 Price
As for the price, the Zeiss Conquest Gavia 85 is on the higher range. Still, you'll get what you paid for. Every dollar is worth the splurge since this scope delivers excellent clarity even on its maximum magnification setting. Aside from that, it has excellent adjustability, eye relief, and comfortable eyepiece. Although it's not made for hunters, birders will definitely find this their go-to equipment. It has a heavy yet premium feel, that's just right for the price.
Advantagesof Zeiss Conquest Gavia 85
One of the best things about the Gavia 85 is the consistency of the image quality. We've tried several scopes before and nothing compared to its clarity at the maximum zoom point. Sure, there's quite a fuzziness at the edges, but it still delivers a clear view. Also, we like the built-in sun shield and eye relief that provide true-to-life and crisp images. Color aberration is also very minimal, even at maximum zoom. Overall, 85 mm scopes are the entry-level for standard spotting scopes. As much as you can find 65 mm or 77 mm options, these models usually suffer in low light conditions. However, all of these are worthwhile features if budget isn't an issue. Besides, if you want a scope that will last for years, you might as well invest premium money for a solid model.
Disadvantages of Zeiss Conquest Gavia 85
One thing that we noticed on Gavia 85 is that it has a narrower FOV as compared to other scopes on the same price range. Still, it's only a small difference that we can forgive. Overall, it's just a small ding on its fine optical resume. We just want to add that for such thoroughness in clarity; we think that the Gavia 85 can push for 70x zoom power. Besides, why limit a workhorse if it can do more?
The Zeiss Conquest Gavia 85 is a powerhouse scope in terms of clarity, zooming power, rugged build, and performance. Although it's on the expensive side, every dollar is equated with top-shelf quality. There are no random specks, aberrations, or cloudiness. Even at the maximum zoom, we observed more than decent image quality. All of it compensates for its quite heavy build and splurgy price tag. What do you think of this Zeiss Conquest Gavia 85 review? Is this the right scope for you?
Author Profile
Gabriel Tackett is an experienced shooter and hunter for over 15 years with a degree in Engineering from the University of Minnesota. He is also a certified National Rifle Association (NRA) officer for 10 years And his passion lies in teaching others how to safely enjoy the hobby by recommending the best practices & products in the gun industry.