Walther CCP Review and Price
The purpose of the Walther CCP review is to provide a concise overview of the CCP, suitable for both experienced shooters and beginners to the practice.  A comprehensive breakdown is presented, from its design aesthetics and safety features, including its price tag. This carry pistol was released in 2014. It is a small, lightweight handgun and an excellent choice for anyone who wants a handgun that's easy to use and accurate. It has all the features of a full-size pistol, but it's much easier to carry. It makes it great for protection, recreation, competition, or defense. 
It is chambered in 9 x 19 mm Parabellum, a common and powerful round. It is one of the most comfortable pistols worldwide, with a magazine capacity of eight rounds. The Walther CCP offers plenty of features that make it a fair choice for most people. Walther CCP also features a unique and snag-free design. The price range of the Walther CCP is generally between $350 and $500 for new versions of the gun.
Features of the Walther CCP
Grip and Textures
This accurate pistol keeps a slim grip circumference, making it easier to carry than other full-sized handguns. Its ergonomic, soft, and comfortable grip does not lose control. It's made of high-quality polymer that's tough enough to endure any situation. It has a non-slip texture and soft polymer alloy frame finish for improved handling and durability. The finger grooves are well-placed and functional. Anyone who has medium to large hands should fit perfectly with the ergonomics of this gun.
While many handguns offer different textures for various parts of the gun,  the Walther CCP only has one texture for its entire grip. The gun's body is made of polymer, making it snag-free and easy to handle. It also offers natural pointing capabilities.  Furthermore, this material ensures no sharp edges on the gun that can cut or shred your clothes while you're carrying it. The Walther CCP's slide is low-profile, which makes it snag-free. It reduces the possibility of snagging on any other objects while you holster your handgun or while you carry it around in your pockets.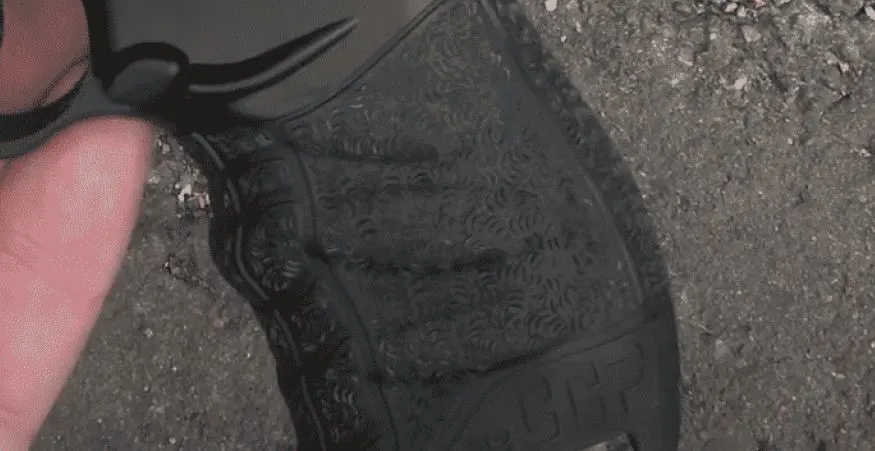 Size and Weight
The Walther CCP is a small gun, making it easy to handle. The average length of the handgun is 6.4 inches, with 5.1 inches being the height. It means that this gun should be great for shooters who have smaller hands or those looking for lighter pistols to carry around all day long. Moreover, the weapon's weight is 22.3 ounces, which is great for those looking to carry around a gun that doesn't add to their weight load. The barrel length of this concealed carry pistol is 3.5 inches, which is slightly taller than other handguns, but it doesn't make a big difference when carrying it around all day.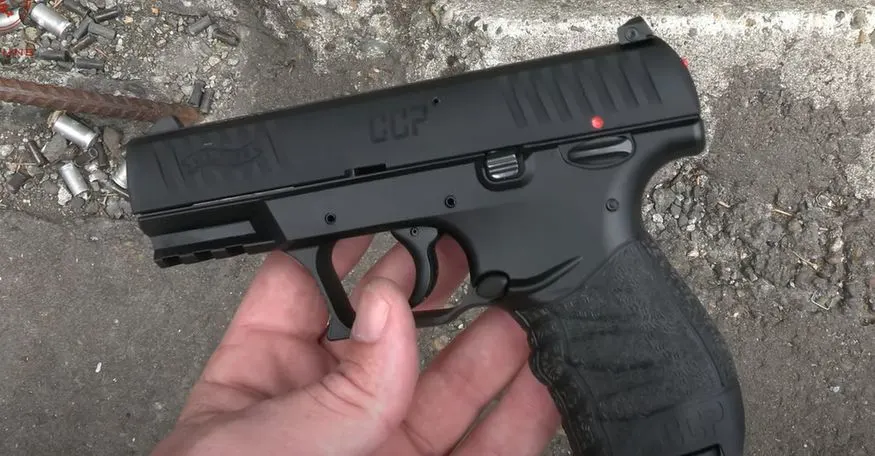 Stopping Power
The Walther CCP has a lot of stopping power. Depending on your needs, it's available in 9 x 19 mm and .380 ACP cartridges. The 9×19mm Parabellum is one of the most popular cartridges available on the market. Most law enforcement agencies use this round, which is why it's used frequently. The Walther CCP has excellent stopping power with the 9×19mm cartridge. It provides enough stopping power for most civilian activities and situations, whether you need to protect yourself from a wild animal, another person, or even multiple attackers. The .380 ACP cartridge also works well; however, this round has slightly less stopping power than the 9×19mm Parabellum.
Safety Features
The Walther CCP has a manual thumb safety making it safe to carry around because you're the only one who can discharge the firearm. Most handguns have internal safety, which will help to prevent any accidental discharges while being carried or stored away in your home. The manual safety on the Walther CCP is ambidextrous, which is a nice feature for left-handed shooters. The additional internal safety features make the Walther CCP a safe gun to carry around or leave in your home. It acts as the firing pin block, which means that the firing pin will not contact a primer unless the trigger has been pulled.
It helps prevent any accidental discharges while re-holstering your gun. To engage internal safety, make sure the external safety is off and that the hammer is in its normal position while keeping your finger away at all times while you're not on target. To disengage, cock back the hammer while keeping your finger away from the trigger at all times. The internal safety features make this handgun suitable for those who want additional security. The thumb safety is perfect for people with average-sized thumbs. It's easy to disengage the safety without any hassle.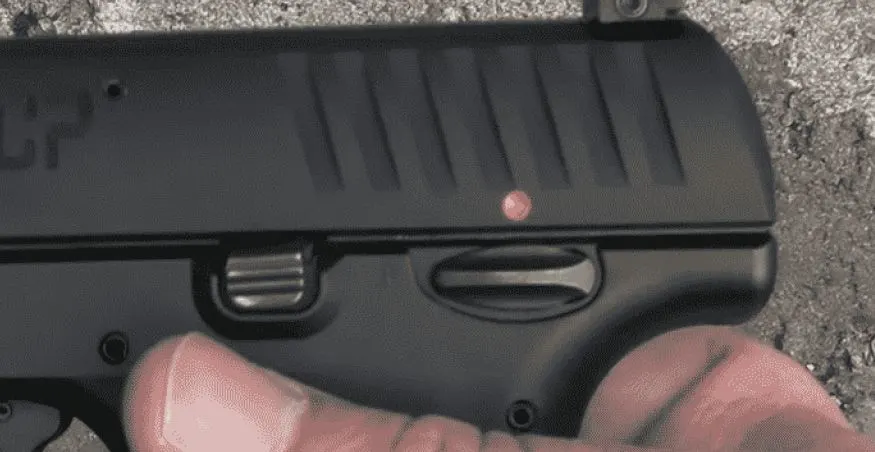 Slide Stop and Magazine Release
The slide stop and magazine release on the Walther CCP are some of the best available options in  the markets. The unique thing about Walther CCP's slide stop is that one can chamber a cartridge while simultaneously locking the slide. It is a useful feature for those who prefer loading a cartridge while carrying their gun. The magazine release of Walther CCP is located on the heel of the trigger guard, which is very typical for handguns.
This location is great because it gives you a few options, whether you need to use your thumb or index finger to release the magazine from its housing. It allows for smooth and fast reloading without any problems. It also reduces the chance of accidentally dropping your magazine while you're trying to chamber. The Walther CCP's magazine release is reversible, which allows you to switch it to the other side depending on your preference. It is a great feature for those who easily switch it back and forth depending on their dominant hand.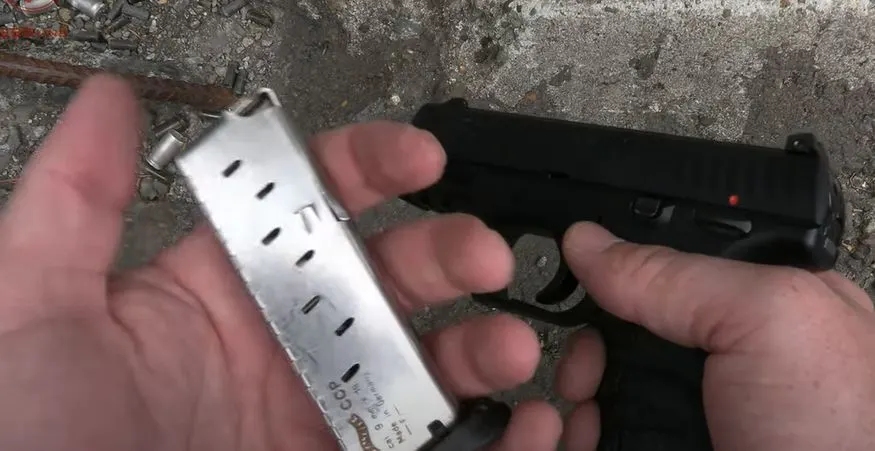 Trigger Mechanism
The Walther CCP's trigger mechanism is similar to double-action revolvers. The trigger has a long stroke before it finally fires. This assists in preventing accidental discharges while carrying because your finger will be resting on the internal safety much longer than other handguns. The double-action trigger mechanism makes it more comfortable to carry. The Walther CCP has a smooth and user-friendly 5.5-pound trigger pull.
It provides you with plenty of control while firing without too much effort, allowing for quick and accurate shots each time. The double-action style trigger pull can be annoying for people who are used to shorter trigger pull, especially while firing accurate shots. When you're carrying the gun, it shouldn't pose any problems unless you plan on using it in a self-defense situation. If so, the long trigger pull may slow your response time down depending on how much training you've had with your handgun.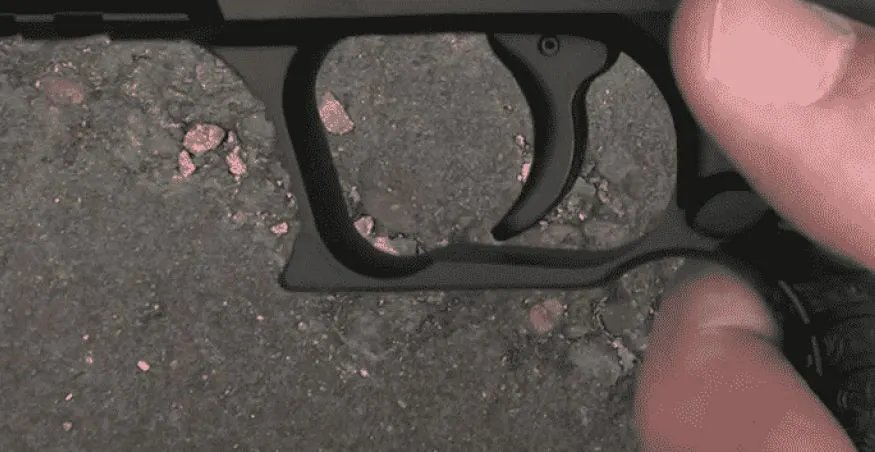 Recoil and Muzzle Flip
The Walther CCP's 3.5-inch barrel is longer than other comparable handguns, but it can still maintain the same weight. The soft recoil makes it an excellent pistol for women, older people, and inexperienced shooters. A longer non-tilting barrel will give bullets more velocity and accuracy than shorter barrels because there's more room for the powder to burn. Since this compact pistol has a gas piston system and fixed barrel design, the recoil spring is not heavy, and hence it has very manageable recoil. The Walther CCP has a low muzzle flip due to the polymer construction of the gun. Even with rapid firing, the muzzle flip is almost nonexistent because it reduces the upward momentum needed to lift the gun along with your shots. The grip also helps reduce any annoying muzzle flips that can slow you down while shooting or cause discomfort during extended periods.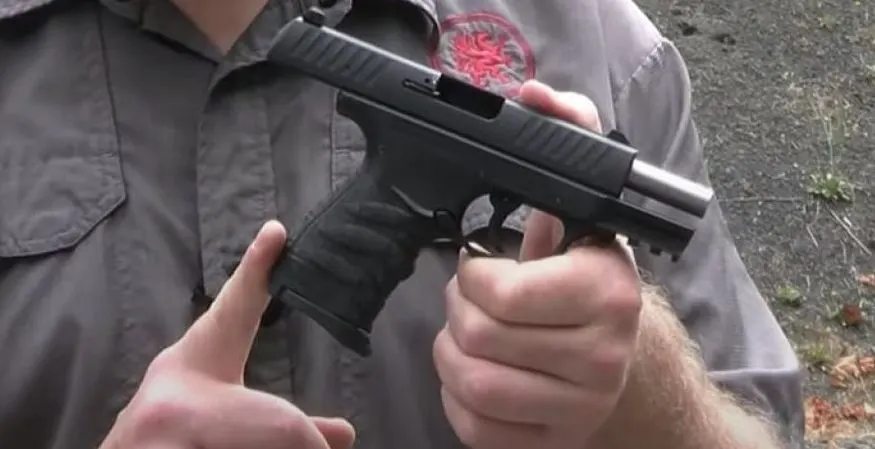 Aesthetics
The Walther CCP is designed with a textured polymer grip available in two sizes. This defensive pistol has adjustable sights, making it easy for new shooters to get used to. The 3-dot sight system has adjustable rear sights that are click-adjustable for windage, while the front sight is fixed. This polymer pistol has a gas-delayed blowback system. This unique system is designed for firearm accuracy, simple maintenance, and optimal safety. Aside from blowback action, this gun has a drop safety and automatic firing pin block. The black polymer frame is durable, weatherproof, lightweight, and comfortable. It also absorbs recoil better than steel-framed handguns. It has a steel slide with a tough tenifer coating. The front and rear slide serrations improve grip making it easy to rack the slide.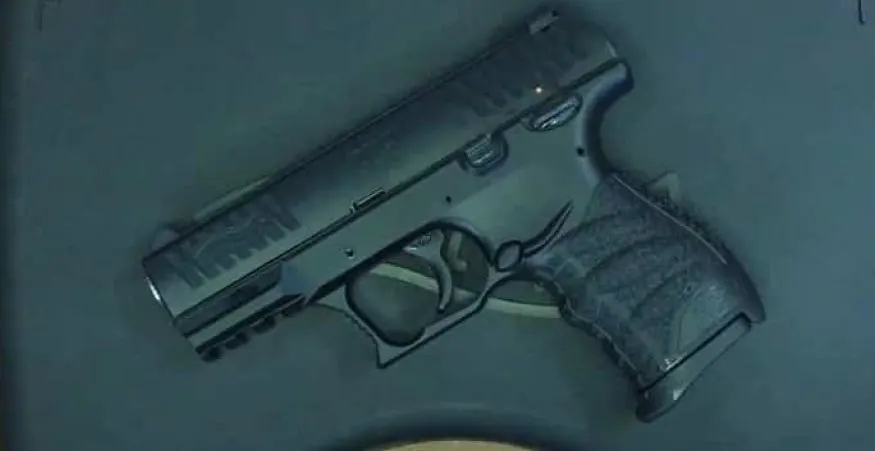 Advantages of Walther CCP
Ease of Use
The Walther CCP is an affordable firearm to carry with its sleek design, polymer construction, easy-to-rack slide, and recoil absorption. You can easily shoot more accurately and control your gun by practicing with it first. The Walther CCP is a great firearm for beginners because of its smooth double-action trigger system, ease of maintenance, and lightweight construction. 
Concealability
This firearm is small enough to be carried in any type of situation. Whether you carry it in your pocket, on your hip, or around your ankle, the gun will fit nicely. It has a slim and compact design, making it the best-concealed carry firearm under $500.
Durability
The Walther CCP is built for durability with its steel slide, tough coating, and polymer frame. It has a tough blowback action that reduces the chances of being jammed during an emergency. The slide locks back every time you release the magazine, making clearing any malfunctions simple.
Affordability
A firearm under $500 with all these features is value for your money. The Walther CCP is a great handgun for beginners and people new to handguns. The overall design is superb, and it's a reliable choice for concealed carry. You get more value from your purchase with a price lower than most handguns of the same quality.
Disadvantages of Walther CCP
Frame Heating
The polymer frame can heat up after continuous firing. It makes it difficult to hold the gun properly, making it uncomfortable to shoot. Eventually, its grip may also slip, which could affect accuracy.
Trigger
The trigger pull is heavy for a double-action pistol, making the Walther CCP harder to shoot accurately. It's also harder to operate the slide because of its stiff double-action trigger.
Aftermarket Accessories - Walther CCP Review and Price
This firearm has a slim design that makes it easy to add custom accessories. You can add a flashlight or laser sight with barrel attachments for better accuracy at night or in low-light environments.
Grips
Walther CCP grips are available in many colors and sizes. One can switch the factory grip with a different size or color for aesthetics or comfort. The standard black polymer grip has a textured surface, and it's checkered to improve grip. You can also add rubberized grips for better control and feel of the gun.
Sights
The 3-dot sighting system is very accurate, but it's not built for nighttime use because of its low visibility. You can add after-market sights like tritium night sights or fiber optic sights to help improve accuracy in low-light conditions.
Extra Magazine
Having extra magazines are important when you need to reload your gun in emergencies. The CCP has an 8-round single stack magazine which can run out quickly if someone is not experienced with shooting the firearm. Additional magazines allow for extended use between reloads and increase your chances of hitting your target or stopping potential threats.
Magazine Pouch
There are many types of magazine pouches available to carry extra magazines. Some prefer holsters to keep their firearm concealed, while others use belt clips or paddle-style magazine carriers that attach the gun at its base. You can use a pouch to hold the extra magazine for quick access when reloading securely. These pouches are also useful during range training.
Holsters
Walther CCP holsters are readily available, including inside the waistband (IWB), ankle, and pocket holster designs for this firearm. There is also a left-handed holster specifically designed for this gun. You can choose from various materials, designs, and colors for your holster. It's best to check the firearm with the holster before purchasing to ensure proper fit and comfort.
1791 Gunleather 2 Way Holster 
The holster is made from top-grain leather, making it stylish, elegant, and classy. Reinforced stitches give the holster an added appeal and durability. The holster is finished with 1791 Gunleather's signature. The holster keeps the gun safe by fastening it tightly, making it difficult to take out. One can easily access the weapon without worrying about external disturbance or fear of losing the weapon. The steel clip can be used on any belt up to 1 ½ inch wide. The clip is permanently mounted and can also be used with most tactical belts for convenience and flexibility. It only accommodates right-handed drawing. It may be worn as a vertical or horizontal carry strap on the pants by using the clip permanently attached to the holster. It fits small to large size firearms, whether semi-automatic or revolver.
$

46

$0
0 new from 46
in stock
$

44.00

$0
0 new from
in stock
What is the effect of the bore axis?
 It is the height of the barrel relative to the shooter's hand when in a firing position. A low bore axis makes it easier for you to keep your gun on target during rapid-fire shots and give you an edge in competitive shooting. The Creed, despite the high bore axis, is pretty fast.
Will Walther CCP work in any holster?
The CCP is a compact handgun built to be concealable. It won't work with larger holsters, but there are holster designs available for you to choose from.
The recoil isn't too bad for a compact gun. It's not heavy enough to affect the accuracy or make shooting difficult, but it can increase felt recoil when you shoot multiple rounds in quick succession.
How is CCP better than other handguns?
CCP has all the basic features of other concealed carry options, but it costs less. The entire gun is built with simple designs that make it easier to conceal in your waistband or inside a holster. With its single-stack magazine design, it's thin and won't add bulk to your waistline.
Is the Walther CCP a good gun?
Yes, Walther CCP is an excellent handgun that's value for the money. It has all the necessary features of a concealed carry weapon, including durable construction with a steel slide and polymer frame. It also comes with an 8-round magazine which you can use to defend yourself in emergencies.
Buying a gun can be confusing, especially if you're unsure what to look for. This Walther CCP review is intended to help beginners and first-time buyers choose the right firearm. Whether you're looking for a gun to use at the range or something that can be concealed in your waistband, this firearm will meet all your needs. It has simple designs that are easy to clean, maintain, and use. No disassembly tool is required. We hope that the information was helpful and contributed to your decision to purchase the Walther CCP. Thank you for reading.
Author Profile
Gabriel Tackett is an experienced shooter and hunter for over 15 years with a degree in Engineering from the University of Minnesota. He is also a certified National Rifle Association (NRA) officer for 10 years And his passion lies in teaching others how to safely enjoy the hobby by recommending the best practices & products in the gun industry.