Glock 26 Review and Price
The Glock 26 is an extremely popular pistol that has been in use for over 30 years. It is known for its extremely lightweight and compact size, making it perfect for concealed carry. The Glock 26 comes with features that make everyday life easier, more entertaining, and more productive. This Glock 26 Price and Review will cover what makes this particular handgun so popular among gun enthusiasts.
The Glock 26 subcompact pistol was introduced in 1995 by the Austrian company Glock. Initially, it was produced for the American civilian market and police forces. It became popular among both civilians and law enforcement officers due to the small dimensions of the frame, the simplicity of the design, and the accuracy of its shooting.
The Glock 26 is a powerful handgun that comes with an extremely portable design. Its size makes it easy to carry for self-protection purposes, whether by civilians or law enforcement officers. This pistol comes with a 9mm cartridge that provides greater stopping power and accuracy without sacrificing concealment capabilities. Finally, this pistol's small dimensions make the shooting process more comfortable. With a slim-line design that makes it perfect for concealed carry, the Glock 26 is low-weight and highly reliable. The Glock 26 comes with a number of features that make carrying easier, more comfortable, and very practical in different situations. The following are some of the key characteristics that set it apart from other similar weapons:
Grip and Texture
The Glock 26 comes with a narrow frame that provides excellent grip and does not tire out the hand. The special surface structure makes it very comfortable to carry and easy to handle, even in extreme conditions. The best thing about the texture is that it prevents the handgun from slipping out of hand, thus reducing the risk of an accident. Furthermore, the surface area is small enough to fit into a pocket or holster for easy storage. The polymer frame provides incredible ease of use and comfort for gun owners. It makes it easier to carry around for self-protection purposes. The frame easily fits smaller hands and provides a secure grip. The grip of the Glock 26 is very important for a lot of reasons. The comfortable grip will increase accuracy and speed to target, making it easier for civilians and law enforcement officials to hit the right spot.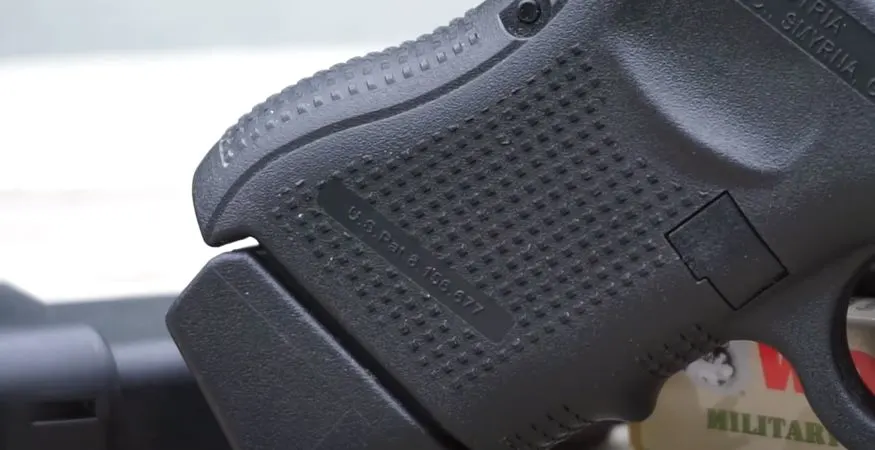 Trigger Mechanism
This particular handgun comes with a trigger mechanism that allows for double-strike capability. Double-strike capability means that the user can pull the trigger again if the first attempt has failed to fire. This is great for self-protection purposes, as it reduces the risk of an accident happening due to a misfire. The combination between accuracy and safety in a handgun is very important, as handguns are used for self-defense. In addition to double-strike capabilities, the trigger comes with a safe action mechanism that keeps it from being discharged unintentionally. The combination of these features makes this Glock 26 extremely useful in self-defense situations. It allows for accurate aiming while making it harder to accidentally fire the weapon.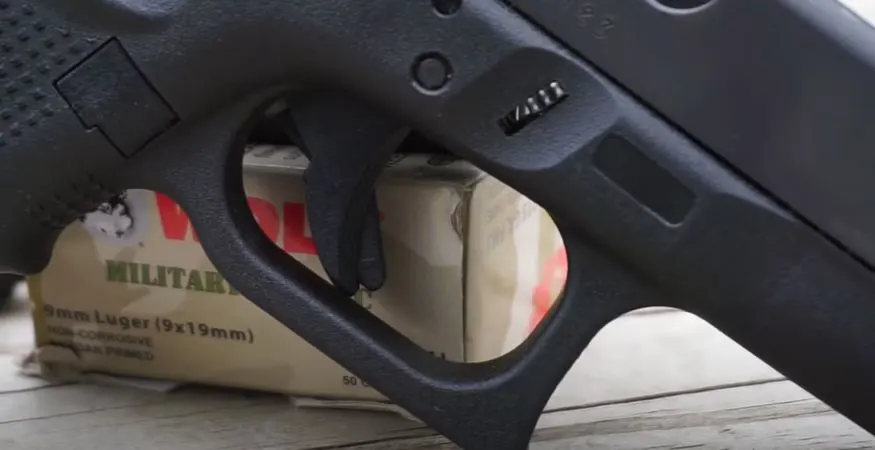 Slide Stop Mechanism
This particular handgun comes with a slide stop mechanism that inhibits movement of the slide from a closed position. However, it does not limit the ability to manually pull back on the slide if necessary after an attempted firing. This mechanism also makes it easier for gun owners to check whether there is a round inside or not. It also makes it easier to use the best 9mm ammo for conceal carry.
Aesthetics
The Glock 26 is simply a beautiful handgun. Its design makes it different from most handguns that are available on the market today. This particular model comes with a lot of aesthetic features that make it unique and provide more fun when used. The gun's design makes it possible to carry around in a concealed fashion. The slim-line structure gives this handgun an impressive look that provides self-protection satisfaction. The polymer frame adds to the beauty of the Glock 26, making it extremely practical to carry around for both civilians and law enforcement officers. While this handgun was designed with functionality in mind, its design makes it extremely practical for self-protection purposes.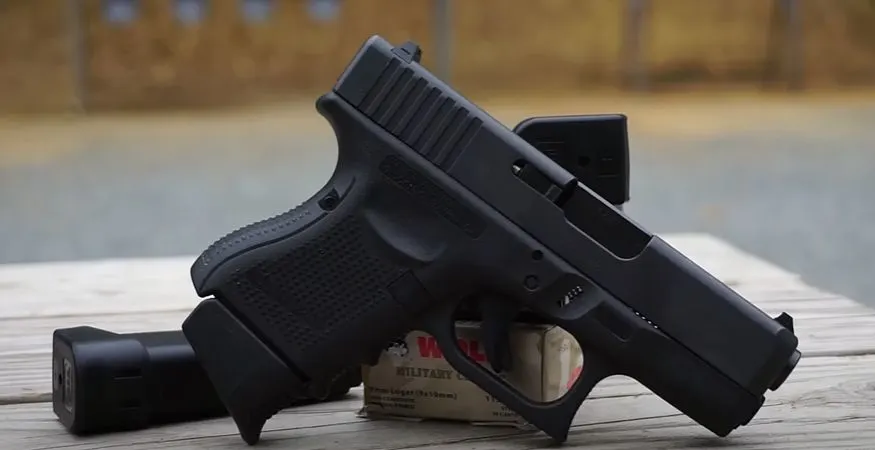 Size and Dimensions
The Glock 26 is a very slim, lightweight handgun that comes at a size of 6.50 inches in length and 4.17 inches in height. The width is only 1.26 inches, making it easy to carry around for self-defense purposes. This particular handgun is shorter in length compared to other models available in the market today. However, its width is very similar to most handguns. The only difference from the others is that it comes with a much smaller frame. Another great thing about this handgun is that it comes with a double-stack magazine, which can fit up to 10 rounds of 9mm ammo within the chamber. The best 9mm ammo for concealed carry will be able to fit into this small frame comfortably without putting too much stress on the shooter's arms and hands.
Line of Sight
The overall length of the Glock 26 allows for a greater line of sight when using this particular handgun. Its length makes it possible to aim with more accuracy and reduces the risk of accidentally firing the weapon. This particular model is considered among the best for self-defense purposes mainly because of its great line of sight properties that provide an advantage over other models.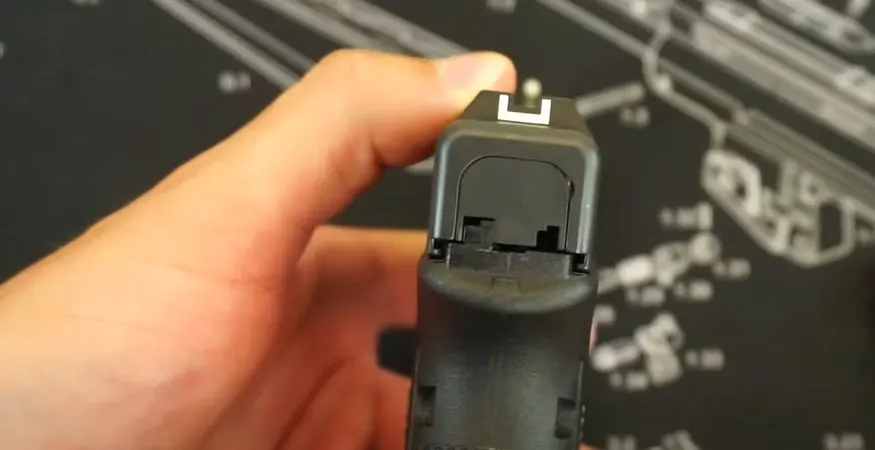 Trigger Distance and Safety
The trigger is located at a distance of 2.83 inches from the backstrap of this particular handgun. This reduces the risk of accidentally firing or feeling unsafe, as accidental firings are less likely to happen when it comes to a comfortable trigger location.  The distance from which you can feel safe and unafraid of an accidental discharge is important for self-protection. The trigger distance should be as comfortable as possible to prevent accidents from happening and provide more accurate aiming when firing the weapon.
The trigger is also built with a safety mechanism that keeps it from accidentally firing. This prevents the weapon from being discharged when your finger is not on the trigger, preventing accidents and making this handgun very safe to use. Trigger pull weight is another factor that can affect the overall usability of this handgun. The trigger pull of the Glock 26 measures at 28N, which makes it very comfortable to shoot when used with accuracy.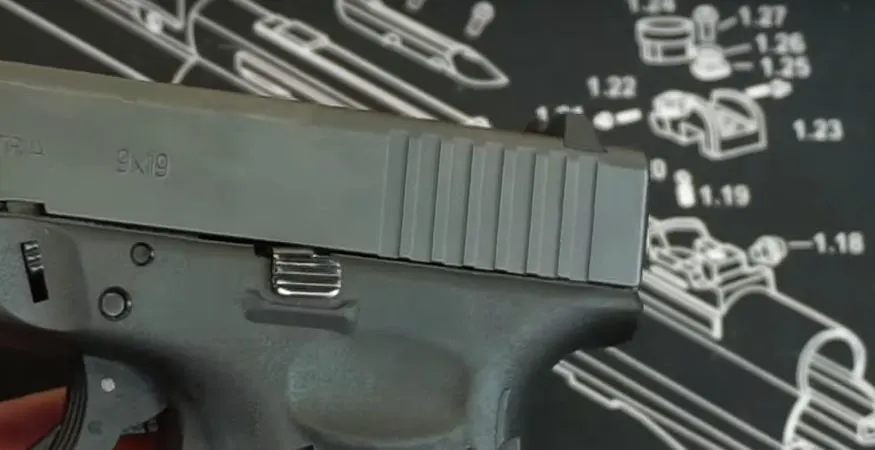 Durability
Durability can be measured in different ways depending on what it is that needs to be looked at. Since this particular handgun was made to be durable as one of its core components, multiple advantages come, making with this model. For starters, the Glock 26 comes with very rugged construction, which means it can stand up to different kinds of environmental conditions. The handgun's polymer material is impact-resistant, making it great for use in extreme conditions. The Glock 26 has also been designed to be water-proof and dust-proof, which makes it perfect for use in different kinds of conditions.
Compact Design
Although the Glock 26 is one of the smallest handguns available in the market today, it still manages to provide a bigger grip than most other models available. This handgun was designed with professional ergonomics in mind. Its overall design is made not just for portability and concealment, but also for comfort when used within close range distances. This handgun's slim construction makes it possible to handle easily and not bulky or hard to use when attempting to aim at the enemy. The construction is also made with enough ventilation so that you can keep your hands cool when shooting it. This prevents your hands from overheating and provides more comfort after continuous firing.
Easy Maintenance
The Glock has one of the best-maintained handguns available today, making it very easy to clean up when the time comes. Glock 26 has stainless steel slide which is made with high-quality material. It means it can be used to repel corrosion for years to come. This particular model has very low maintenance costs, making it great to use in different kinds of weather conditions. The polymer material that makes up the body of the Glock 26 also reduces the amount of maintenance needed, as it is very easy to wipe off dirt and dust from this handgun. This makes it perfect for use in different kinds of environments.
Sights
The Glock 26 comes with the advantage of a fixed, white dot front sight and a fully adjustable rear sight. Its rear sight is used to adjust for windage and elevation, which helps you make the needed adjustments to your shooting strategies.
Concealment
The Glock 26 is made with a barrel length of 3.43inches, which makes it perfect for concealment. This reduces the likelihood of accidentally exposing your weapon and helps you aim more accurately at the enemy. This particular handgun is considered among the best for concealed carry. It's very slim, lightweight and small enough to fit inside a bag or purse that makes it easy to carry around discreetly. This means that you can protect yourself without too much inconvenience whenever necessary.
Trigger Action
The trigger mechanism comes with an elongated trigger guard that allows for better-aiming capabilities and reduces snags while handling the handgun. The Glock 26 also comes with a lot of speed bumps, which help to increase the user's efficiency when handling it.
Price and Availability
The Glock 26 is generally available at most gun stores that sell handguns nationwide. The price can vary based on the type of deal you get from a particular retailer. Generally speaking, the Glock 26's price ranges from $450 to $600. This price is considered affordable for this type of handgun. The Glock 26 is one of the best handguns you can buy today. It's very well-built, lightweight, and durable enough to last for years to come. This handgun has proven to be one of the perfect concealed carry models available in the market today. However, there still exist some disadvantages of this handgun.
Disadvantages of Glock 26
Weight
The Glock is not as easy to conceal as other handguns. It weighs around 2 pounds, which makes it very heavy for some people who prefer small and light handgun models. This can be a disadvantage for those who like to carry their weapons on them discreetly, but it also helps balance out the overall length of this handgun, making it easier to aim at the enemy.
Capacity
It also has a small capacity compared to other types of handguns available today. Its standard magazine can carry up to 10 rounds, which means you have lesser ammo when in a fight. This is one of the main disadvantages of the Glock 26 handgun. However, despite this particular flaw, the Glock 26's pros overshadow its cons. This handgun is still one of the best choices available today if you want something that has better accuracy for shooting at a longer distance or if you are looking for a handgun that can be easily concealed. 
It's the perfect handgun for those who live in environments where gun safety and security are of utmost importance. It fulfills all the requirements you need from a  handgun, making it perfect for use in different kinds of situations. So if you're looking for the most affordable handgun that is very easy to shoot and conceal, then this particular model might be just right for you.
Aftermarket Accessories - Glock 26 Review and Price
There are few aftermarket accessories available for Glock 26. List is infront of you.
Night Sights
Night sights are available. Some models of night sights cost around $100 while other models need to be custom fitted.
Grip
There are aftermarket options for improving or replacing the standard factory grip. This includes the option to replace the standard grip with an extended, frame-style grip. This type of replacement is available through various gun dealers and can cost under $100.  There are also custom grip replacements that may be more expensive than the factory standard, but they allow for better handling overall when in use. These types of grips are not available on the market. Some of these grips may cost around $200 or more.
Magazine Mods for Glock 26
Replacing the factory magazine of the handgun is also possible with an aftermarket model, but this type of replacement does not come cheap. There are also extended magazines that allow the Glock 26 pistol to hold up to 20 rounds of ammunition at a time. These types of magazines have been proven very useful in various situations, especially when it comes to locating and neutralizing hidden enemies during times of war or when in a combat situation.
Holster
Additionally, it's possible to buy a holster for the Glock 26 if you do not have one yet. This particular handgun is compatible with many different types of holsters available in the market these days. However, some models may need modifications or may be specifically designed to fit your handgun model. The Glock 26 model can be fitted with the IWB KYDEX holster. This particular holster is designed to fit various sizes of handguns, including Glock models.
This type of holster comes in different colors and costs around $20 online from stores such as Amazon.com. It is a great holster made of durable material. It has a custom clip that attaches to the belt and keeps the firearm in place. It is made of a proprietary lightweight, polymer blend, and rides closer to the body for better concealment. It provides comfort and ease of use whether you're on the range or carrying concealed.
How difficult is it to rack the slide on the Glock 26?
It can be difficult to rack the slide at first. Typically, this is because you're not holding the handgun correctly. If you keep practicing, then your firing pin will become smoother and it'll hit more consistently on target.
What is the difference between a Glock 26 and a Glock 27?
The Glock 27 fires .40S&W caliber ammunition whereas the Glock 26 fires 9x19mm caliber ammunition. The biggest difference, however, will be the magazine capacity.  That's the reason why some individuals prefer this model over the other one.
Is the Glock 26 good for concealed carry?
Yes, this is one of the best handguns out there because it's extremely compact and lightweight. It was designed for concealed carry so it's perfect for this purpose.
What are some accessories available for the Glock 26?
Night sights, trigger modifications, grip replacements, magazine extensions, and holsters are all great accessories to purchase for your handgun if you want it to be more efficient. 
Overall, the Glock 26 is one of the most highly sought-after firearms available in the market today. With proper practice and training, it's easy to get used to this type of handgun and improve your shooting skills with it. Some people dislike it because of its shorter barrel. But for concealed carry, this is the perfect handgun to have with you at all times.several.
Author Profile
Gabriel Tackett is an experienced shooter and hunter for over 15 years with a degree in Engineering from the University of Minnesota. He is also a certified National Rifle Association (NRA) officer for 10 years And his passion lies in teaching others how to safely enjoy the hobby by recommending the best practices & products in the gun industry.