The P09 is the duty firearm used by the Czech National Police. Like all CZs, it operated on a short recoil mechanism and was designed to fire NATO standard 9x19mm ammunition.  In this article, we'll take a look at the CZ P09 Review and see how it performs on the range, as well as what makes it such a great duty weapon for police officers across Europe.
At first glance, the CZ P09 seems similar to other popular polymer framed handguns of today, but under closer inspection are some significant differences that make it stand apart from its peers. A few distinguishing features are the non-reciprocating charging handle, de-cocker, and lack of safety. The P09 has much in common with the flagship CZ 75 model, including its ergonomics. The trigger guard is squared off at the front to allow for shooting with gloved hands.
Grip and Textures
The grip has a smoothly curved backstrap. The P09 employs interchangeable backstraps of different shapes to accommodate various hand sizes. A common complaint about the CZ 75 series is their sharp square front strap checkering, which can be uncomfortable for many shooters when using the pistol for long training sessions or practice sessions. This issue has been addressed in the CZ P09.
The front strap is rounded and heavily textured, providing a very secure grip on the weapon. The CZ P09 has three interchangeable backstraps of different shapes to accommodate various hand sizes. The side panel of the grip has repeating CZ 75 texturing in a vertical pattern, which provides additional traction for your hand. At the rear portion of the slide is a set of lightning cuts that are designed to reduce both weight and perceived recoil.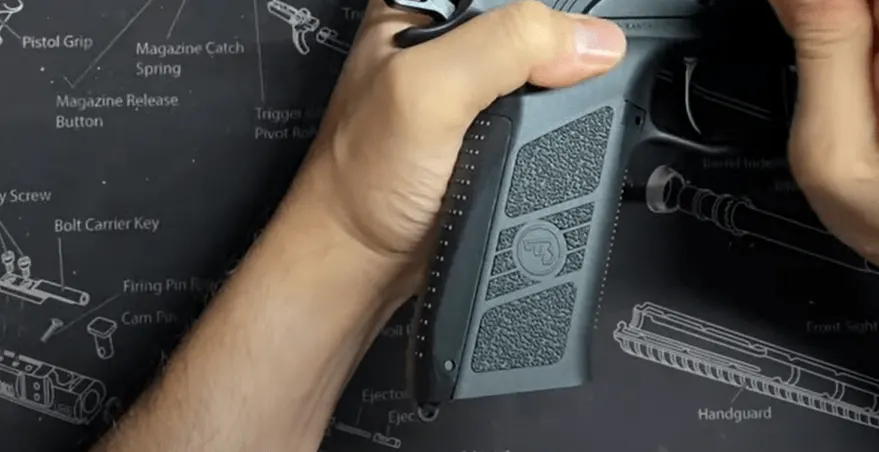 Trigger Mechanism
The P09 has a trigger mechanism similar to that of the CZ 75 series. The single action is approximately five pounds and does have a slight amount of takeup before meeting resistance. The double action trigger pull is somewhat heavy, bound twelve pounds, but smooth with no stacking or sponginess. The decocker switch on the left side of the frame, just above and behind the slide release, can be used to decock the hammer without taking your finger off the trigger. It will not move unless you first apply constant pressure and then depress it until it starts moving downwards. The P09 has firing pin safety that disables the firing pin unless it is fully depressed, a combination lever safety that blocks the trigger, and the slide catch that locks the slide to the rear.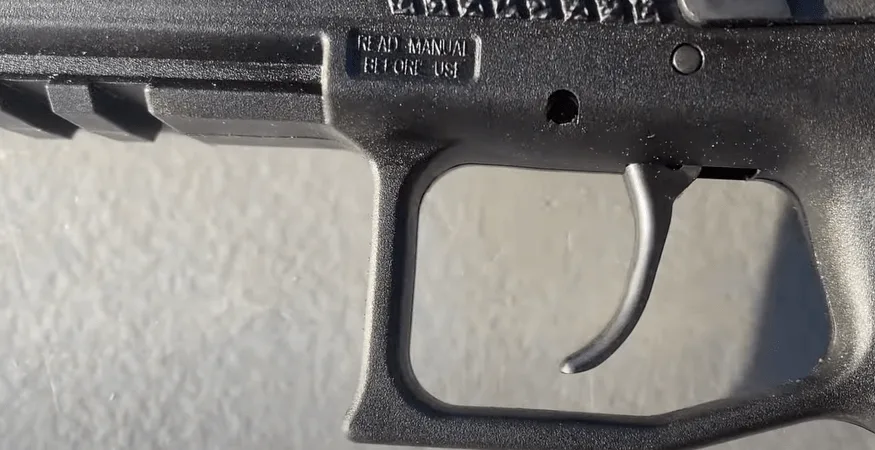 Slide and Barrel
The rim of the CZ P09 is squared off like that of the CZ 75. This allows you to rack the pistol up against your body when carried concealed by using your hand between the weapon and your torso. The front sight has a shelf built onto it that allows for one-handed slide manipulation, especially for competition shooters. The slide is cut with lightning cuts, similar to the CZ 75 Tactical Sport, which reduces weight and perceived recoil. The P09 is a full sized duty firearm with a 4.5″ barrel and a polymer frame. The barrel is cold hammer forged and features polygonal rifling with a twist rate of one turn in 16 inches.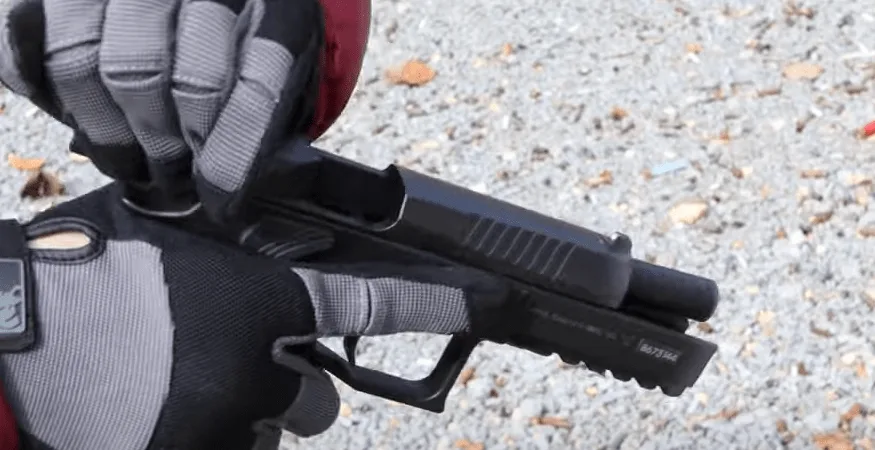 Sights
The rear sight is a fixed, non-adjustable unit. It is dovetailed into the slide and features two white dots for increased visibility than a plain black blade found on many other handguns. The front sight is fixed as well but differs from the traditional rounded blade found on other firearms. The P09 front sight has a square notch and is designed to facilitate one handed slide manipulations.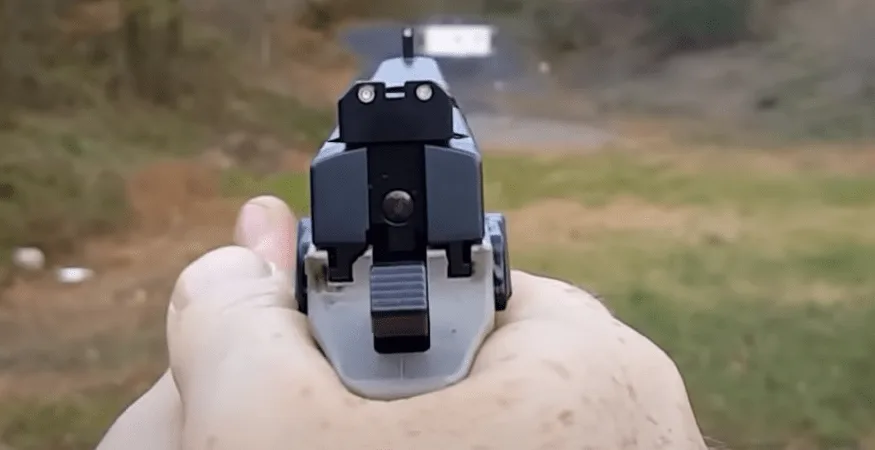 Size and Dimensions
The CZ P09 is slightly larger than the full sized polymer framed pistols offered by many other manufacturers but smaller than many steel frame handguns. The weight is just over 31 ounces unloaded with an overall length of 8.18 inches and a barrel length of 4 ½ inches. The width at the widest point of the grip is 1.4 inches, and the height is 5.8 inches.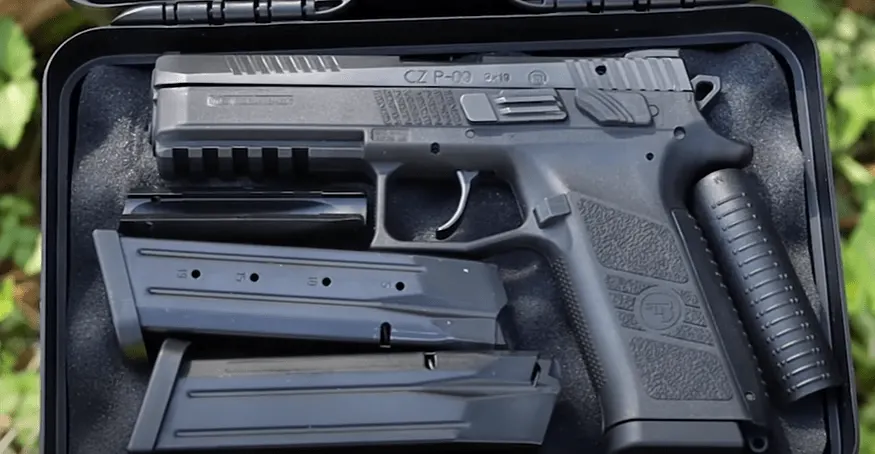 Magazine Capacity
The P09 has a double stack magazine with a capacity of 19 rounds. The polymer base plate has two finger grooves molded into it to allow more secure positioning in the hand when drawing. Magazines are available with extended floor plates, providing an additional gripping surface for people with large or small hands. Extended magazines also add capacity for each magazine, allowing you to bring the total number of rounds in your gun up to thirty. The P09 carries a generous amount of ammunition and, as such, has been approved for use by the Czech military and other related agencies.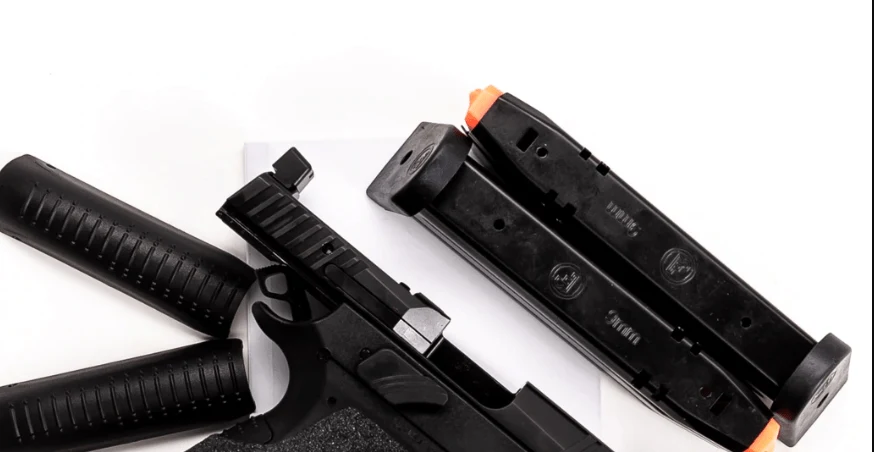 Shooting and Recoil
The CZ P09 is a significant departure from the standard .177 caliber projectiles that you find in other pistols when it comes to shooting. As a result, you will need to keep a supply of 9mm Makarov ammunition on hand for use with this handgun. The P09 has quite a bit going for it as far as ergonomics and reliability go, but it lacks the refinement you find in similarly priced pistols. The fit and finish are adequate, but nothing more.
There is quite a bit of play between the slide and frame, which could be due to poor machining tolerances during production or heavy use after production. As far as accuracy goes, the CZ P09 is a very accurate handgun. It has been noted to be capable of producing 3 inch groups from 20 yards away, though it is more likely that a shooter with this pistol will hit a man sized target at ten yards in about 2 seconds.
Reliability
The P09 is a fairly new weapon and has not been out long enough for there to be any significant complaints about its reliability. Like most handguns, this pistol will usually function properly as long as you keep it clean and lubricated. One issue that has come up with the P09 is magazine related. There have been reports of the magazine losing its spring after a particularly intense shooting session.
Durability
The P09 has proven itself to be a rugged and durable weapon system. It is made from steel and polymer, which make it both strong and light. The metal components provide enhanced durability compared to other plastic firearms. The P09 is a well designed firearm that incorporates several elements that we have come to expect from CZ; ergonomics, accuracy, and durability. This handgun performs well, but it is not without its faults. One of the biggest issues with the P09 is that you will need to buy a new holster if you want to take advantage of its ambidextrous fire controls, as most holsters are made for traditional firearms.
There isn't much else wrong with this pistol, but a lack of refinement in both the manufacturing and design makes it less than perfect. The CZ P09 is an accurate and reliable tactical sidearm, with its biggest fault being unrefined finishes. This pistol may not be as refined as many other pistols on the market, but you won't find it much better than this handgun if you are looking for a solid 9mm.
Concealability
The P09 is a non-standard firearm, which means it will be difficult to find a holster. The only way to carry this 9mm handgun without modifying your holster would be to use an inside the waistband holster or shoulder rig. However, this pistol has been approved by the Czech military and several other agencies on the positive side. It is a durable handgun that will serve you reliably in the line of duty.
Aftermarket Accessories - CZ P09
The P09 is a fairly new model, and as such, it has not seen much of an aftermarket for accessories. There are holsters available, of course, but if you want to take advantage of the accessory rail on this pistol, you will need to look elsewhere.
Sights
The P09 is compatible with many different types of sights, but you will need to buy these components separately. You can choose between three dots, fiber optic or glow in the dark, depending on your preference. This handgun also comes with tritium night sights standard.
Lasers
Because this handgun was developed for military and law enforcement use, it is not typically compatible with most laser sights. You can attach some to the accessory rail if you wish, but they must be custom-made. 
Aftermarket Grips
CZ offers several grip options for the P09. With these components installed, you will notice a drastic change in the overall feel of the pistol. If you are looking to enhance your accuracy even further, consider buying an aftermarket barrel for this weapon as well.
Flashlights
There are no specific flashlights for the P09, but there are some that you can mount on the accessory rail if you wish. This will allow you to enhance your accuracy in low light conditions.
Magazine Extender
The standard capacity for this 9mm handgun is 19 rounds, but you can buy a magazine extender to increase the size of each magazine to 19 rounds. In addition, some shooters prefer the finger rest that comes with this accessory. 
Magazine Loader
It is easy to load this pistol without a magazine loader, but some shooters find it more convenient. If you plan on buying this accessory, however, you will need to ensure that it comes with the correct model of CZ P09.
Optic Mount
An optic mount is available for the P09, but it does not come standard on this weapon. You may need to look elsewhere or modify another accessory if you want to keep the sights consistent throughout your kit. 
Holsters
The most popular holster for the CZ P09 is an inside the waistband model. This makes it difficult to draw quickly, but it works well with this pistol because of its slim size. There are also shoulder holsters available, which allow you to carry it out in the open if you prefer.
$

35.9

$0
0 new from 35.9
in stock
The CZ P09 is a great handgun option if you shop for a 9mm that will perform reliably in adverse conditions. It is not the most accurate or refined firearm, but it gets the job done.
No, the CZ P09 is not discontinued. You can still buy this handgun at several retailers, and it will likely continue to be sold as long as there is a demand for it.
Can you conceal carry a CZ P09?
Yes, but you will need to look for a holster compatible with this 9mm handgun. If you plan to carry it in the open as well, consider buying a shoulder holster instead of an inside the waistband model.
What is the difference between the CZ P07 and P09?
The CZ P09 is a newer firearm than the P07, which means some additional features are not available on the older model. The most notable difference between these two handguns is that the P09 has an accessory rail where you can attach laser sights and flashlights.
Is the CZ P09 better than Glock?
The CZ P09 is comparable to a Glock, both in terms of performance and quality. Many shooters prefer this Eastern European brand feels in their hands, but they are also more expensive than most options available.
The CZ P09 is an accurate handgun that just about everyone can use. It provides shooters with a durable option that they can rely on for years to come. Whether you want to use it for personal or professional purposes, this 9mm handgun will work well in almost any situation. The  CZ P09 has been known to be a reliable handgun and great for conceal carry. It is not best for home defense because of the punch but other than that, it's a great firearm. We hope you enjoyed reading this CZ P09 Review. This is the last gun in the "best guns for conceal carry list."
Author Profile
Gabriel Tackett is an experienced shooter and hunter for over 15 years with a degree in Engineering from the University of Minnesota. He is also a certified National Rifle Association (NRA) officer for 10 years And his passion lies in teaching others how to safely enjoy the hobby by recommending the best practices & products in the gun industry.