Beretta PX4 Storm Review and Price
Beretta PX4 Storm review brings some of the best information to help you decide if this pistol is right for you. The Beretta PX4 Storm is a semi-automatic pistol that has been on the market since 2004. It is a popular choice for personal and home defense and law enforcement personnel. The PX4 Storm is a polymer frame pistol available in powerful caliber, including 9mm and .40 caliber. It has a rotating barrel that dissipates recoil, making it easy to shoot.
The Beretta PX4 Storm also features an ambidextrous safety lever, reversible magazine release, and snag-free slide design. The price tag for this Beretta PX4 Storm reveals that it is more expensive than many other pistols on the market. However, considering its features and reputation, the extra cost is worthwhile. Its price ranges from $500-$1000.
Features of Beretta PX4 Storm
Grip and Textures
One of the features that make the PX4 Storm stand out is its grip and textures. It has bruniton non-reflective black coating grips that are textured and contoured to increase grip, even when soaked with sweat. It is essential when shooting during hotter days because it helps prevent slipping. The grip angle facilitates a natural point of aim so that you can fire the weapon with ease. This pistol also has different textures on each side to help you maintain complete control while gripping this handgun appropriately.
The backstraps are also textured so you can keep the pistol in your hands securely, even after firing multiple rounds. Another great feature is that this gun has no sharp edges, making it ideal for carrying concealed if desired. These backstraps are easily interchangeable, allowing you to customize the grip according to your preferences.
Size and Weight
The Beretta PX4 Storm is a lightweight handgun. It weighs in at around 27.7 ounces and has a length of 7.68 inches and a height of 5.51 inches. You should consider your physical limitations when choosing the size of your handgun, but this model is great for most people because it is an average size handgun. The barrel is 4 inches long, and the magazine holds 17 rounds cartridge capacity.
Stopping Power
The Beretta PX4 Storm has much stopping power. It shoots 9mm and .40 cartridges, which are great for self-defense applications. The ammo is also widely available worldwide, so finding it on short notice is not an issue. PX4 is capable of shooting a 147-grain bullet at 1,345 feet per second. The muzzle energy that this handgun pack is 498 ft-lbs. It is an extraordinary amount of power, but you must account for its recoil from the previous shot. The range of this handgun is also impressive. You will shoot accurately at 25 yards, a standard distance for self-defense scenarios.
Safety Features
The Beretta PX4 Storm has a few safety features that make it an excellent choice for personal protection. It has a flip-up ambidextrous manual safety, which means both right and left-handed shooters can easily use this handgun. It also possesses an automatic firing pin block, drop safety, and a magazine disconnect. The pros outweigh the cons by far in this situation, making this handgun worth investing in. It works well for most people because it has average dimensions. Internal safety features are beneficial, especially for those who want to protect themselves in emergencies.
It is also an accurate pistol that has a propellant-efficient design. It also works reliably well with most types of ammo. The rubber grips are another great feature because they help keep the handgun even when it is hot outside. The Beretta PX4 Storm is well known for its reliability. The rotating barrel design reduces recoil and allows quick target acquisition between shots, even if you are inexperienced with handguns. It is also a very affordable handgun compared to other pistols with similar features.
Slide Stop and Magazine Release
The slide stop and magazine release are also easy to use on the Beretta PX4 Storm. This pistol has a reversible mag release button, which means it works no matter what hand you use to shoot the gun. It also has a slide release lever, which you can use to load the first bullet. They are present in strategic positions on the gun, so you can easily access them with your thumb or fingers. It is perfect for those who are right-handed or left-handed. The slide stop is also easy to use. You can simply press it down with your thumb or finger to release the slide. This feature makes it easy to reload the gun.
The Beretta PX4 Storm has a reversible magazine release, which helps you keep the gun working at all times. There is nothing to worry about the handgun getting dirt or other debris in it because you can quickly flip the release around to clean it off. It is also straightforward to attach and detach magazines using this feature. Re-assembly is also very easy. You can re-assemble the handgun in just a few minutes, even if you have never done it before. It is an excellent feature for those who want to keep their gun in working condition but may not have experienced it yet.
Trigger Mechanism
The trigger guard has smooth surfaces on it, so your fingers do not rub against rough edges when you fire the handgun. The trigger mechanism on the Beretta PX4 Storm is also impressive. It has a single-action/double-action trigger, making it easy to pull. You do not have to worry about the stimulus being too stiff, which can cause you to miss your target. The trigger also has a positive reset, which means you can quickly fire another round after the first one.
It is excellent for self-defense situations because you may need multiple shots to stop an attacker. The external hammer also helps you to fire more accurately. It is cocked back when you pull the slide back, so you know when the gun is ready to fire. Thus, it is easy to keep track of your shots and avoid firing prematurely.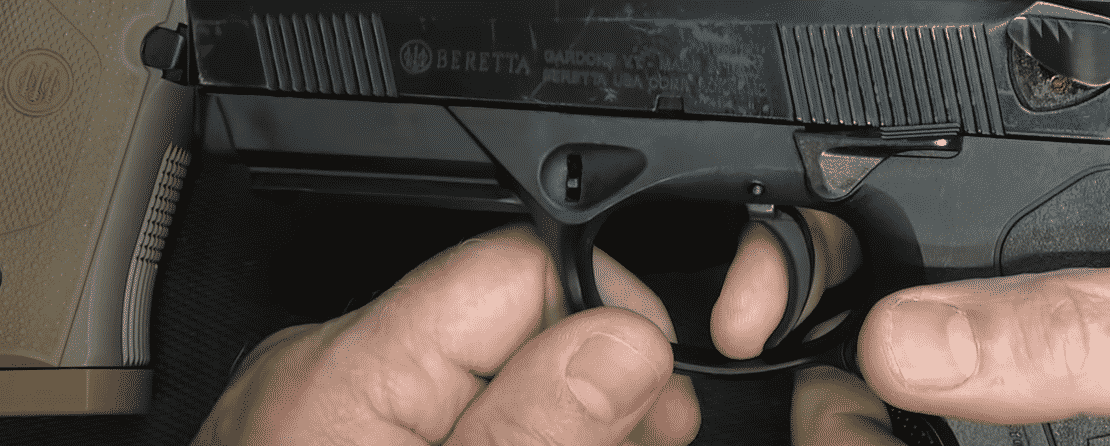 Recoil and Muzzle Flip
The Beretta PX4 Storm has a cold hammer forger rotary barrel that helps to reduce recoil. This barrel is also chrome-lined, which prevents it from rusting over time. The gun also has a low bore axis, which means the barrel is close to the shooter's hand. It reduces muzzle flip and allows you to fire more accurately. You can shoot more accurately because the barrel stays in place when you fire the handgun. The low bore axis keeps it from jerking up when you shoot it. It makes it easier to re-aim if your first shot does not hit the target. It is a reliable handgun capable to work in all types of different conditions.
Aesthetics
The Beretta PX4 Storm has a sleek design, making it easy to use. It has a stainless steel construction, which gives it a polished look. It also has a polymer frame, which is lightweight and easy to hold. The handgun has an ergonomic design. The front and rear sights are made of metal. This 3-dot sight system gives you a good view of your target when using the gun. The trigger guard is also large enough to accommodate gloves, perfect for those who use their handguns in cold weather. It has swappable backstraps, which means that you can change the way it feels in your hand. It is great for those who are not used to handguns or want a more comfortable grip.
Advantages of Beretta PX4 Storm
Reliable
The Beretta PX4 Storm is one of the most reliable handguns on the market. One can use this anytime irrespective of environmental conditions. It has an ergonomic design, which is easy to grip and handle. It also has a low bore axis, keeping the barrel closer to your hand and reducing the muzzle flip.
Tactical
The handgun is great for tactical purposes due to its ergonomic design and swappable backstraps. It has an external safety that you can easily access with one finger. There is also a manual safety on the side of the gun, which prevents it from firing by accident. It also has a loaded chamber indicator, so you know that the handgun is ready to fire when you pull the slide back. It can help prevent accidents and injuries if your firearm does not discharge all at once.
Comfortable to Shoot
The Beretta PX4 Storm is comfortable to shoot, even firing it for the first time. There is no need to worry that the recoil will be too assertive or uncomfortable.
Sight System
The sight radius is accurate, even if you are shooting the handgun at a long distance. The Beretta PX4 Storm has tritium night sights making it easier to aim in low-light conditions. It gives you greater accuracy because it is easier to see your target when there is less light.
Durability
The Beretta PX4 Storm has a lightweight and easy to hold polymer frame, making the handgun durable and long-lasting. You can use it in all types of weather conditions without worrying about it becoming damaged.
Disadvantages of Beretta PX4 Storm
Heavy Trigger
The handgun has a heavy trigger pull, making it harder to fire. It is excellent for those concerned about safety but may not be ideal for new shooters who are not used to the trigger with so much force.
Aftermarket Accessories - Beretta PX4 Storm Review and Price
Sights
There are various sights that you can purchase for the Beretta PX4 Storm. You can buy metal or fiber optic sights, which will make it easier to see your target in all types of lighting conditions. You can also buy night sights, which will allow you to aim in low-light conditions.
Grips
This handgun comes with swappable grips. You can purchase different grips for the Beretta PX4 Storm, perfect for making it comfortable for your hand and grip. There are rubber, wood, and polymer grips that you can choose from as per your requirements and needs.
Magazine Extensions
You can also buy capacity mags for the handgun to increase cartridge capacity. It will give you extra rounds of ammunition capacity to fire before reloading, which is beneficial when in the field.
Laser
There are many different lasers that you can attach to the Beretta PX4 Storm. You can find lasers that will activate when they detect light or ones you need to start manually. It is essential to buy a laser with a low bore axis not to affect your firing accuracy.
Holsters
It is important to buy a holster compatible with the Beretta PX4 Storm to carry it around safely and easily. It should fit comfortably on your waist and be easy to take off and put on so that you can draw quickly in case of an emergency. Some concealed carry fits magazines and other accessories, making it easier for consumers to carry gun along with extra capacity mags.
Beretta Leather Holster Mod. 04 For PX4 Series
This concealed carry fits the Beretta PX4 Storm allowing the consumer to safely take their gun without holding it efficiently in their hands. Law enforcement officers and hunters need to maintain their firearms wherever they go. It helps keep them safe, especially during emergencies where they need their guns most. Mod. 04 The PX4 series holster is made with premium leather, giving the product a luxurious look and feel for everyday use. This holster has an open-muzzle design that allows consumers to carry their firearms without restrictions.
The holster is also designed with a thumb break snap strap for quick and easy access to the gun when needed. This holster is ideal for belt carrying. It can be used by anyone in the line of duty, specializing in law enforcement or hunting. This holster offers two possible inclinations of carrying your pistol on the belt. The holster also comes with a GC Snap device, which helps keep the firearm in place while it is being carried. This snap also allows the user to access the weapon if needed quickly.
What distinguishes the Beretta PX4 Storm from other pistols on the market?
The Beretta PX4 Storm is a unique pistol because it offers a variety of features that are not found on other firearms. For example, a rotating barrel and locking block design dissipates recoil, making it easier to shoot accurately, a loaded chamber viewport, and an ambidextrous magazine release.
What is the recoil like on the Beretta PX4 Storm?
The direct barrel-slide locking system with a low barrel axis significantly reduces recoil and makes it more accurate to fire. It makes it easy to handle and shoot for nearly all types of handgun users.
Is the Beretta PX4 Storm easy to operate?
Yes, the Beretta PX4 Storm is very easy to operate. It has a reversible magazine release and ambidextrous safety performed by both left and right-handed shooters.
Is the Beretta PX4 Storm accurate?
Although some pistols are more accurate than others, the Beretta PX4 Storm is surprisingly real. For example, it can shoot a 3-inch grouping at 25 yards, which is impressive for any pistol of its size.
What type of cartridge does the Beretta PX4 Storm use?
The Beretta PX4 Storm uses a 9mm Luger cartridge. It is a centerfire cartridge that can shoot small, fast bullets at high speeds. While most pistols use low-velocity cartridges, the Beretta PX4 Storm uses a high-velocity cartridge, firing shots at higher muzzle speeds.
In conclusion, the Beretta PX4 Storm review found and analyzed an excellent pistol for personal defense and recreational shooting. It is easy to operate, accurate, and has light recoil, making it comfortable for shooters of all experience levels. Additionally, the Beretta PX4 Storm uses high-velocity cartridges, due to which it has high stopping power and can penetrate body armor. So if you are looking for an excellent all-around pistol, the Beretta PX4 Storm is a great choice.
Author Profile
Gabriel Tackett is an experienced shooter and hunter for over 15 years with a degree in Engineering from the University of Minnesota. He is also a certified National Rifle Association (NRA) officer for 10 years And his passion lies in teaching others how to safely enjoy the hobby by recommending the best practices & products in the gun industry.